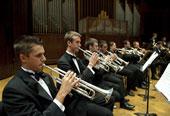 Conducted by Dr. Russel C. Mikkelson, The Ohio State University Wind Symphony is widely recognized as one of the country's elite wind bands. Its membership comprises the most accomplished brass, woodwind and percussion musicians in the School of Music. Committed to the creation of new music for winds, this ensemble has commissioned music by composers including William Bolcom, Aaron Jay Kernis, David Maslanka, Eric Stokes, Dan Welcher, David Gillingham, John Stevens, Donald Crockett, Daniel Godfrey, Charles Rochester Young, Robert Beaser and many others.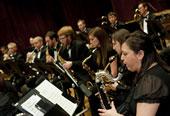 One of the goals of the Wind Symphony is to provide students the opportunity to interact with some of the leading composers and musical minds of our time. Visitors have included such notable musicians as John Corigliano, Lukas Foss, Krzysztof Penderecki, Gunther Schuller, Joseph Schwantner, Jennifer Higdon, Frank Ticheli, Augusta Read Thomas, John Mackey, John Stevens, Steven Bryant, David Gillingham, Jonathan Newman, Roger Cichy and Percy Grainger's biographer John Bird. Graduates of the Wind Symphony hold positions as professional orchestral musicians, soloists, conductors, members of the Washington-based military bands, university professors, and some of the world's leading music educators.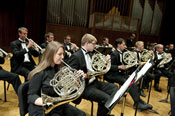 Since 2000 the Wind Symphony has recorded six compact discs including Network (Naxos 2016), Rest (Naxos 2012), Southern Harmony (Naxos 2009), Winds of Nagual (Naxos 2007), Jubilare! (Mark Records 2003), and Sounds, Shapes and Symbols (Mark Records 2001). The Wind Symphony has performed at the 2003 and 2015 College Band Directors National Association Convention, the 2014 CBDNA North Central Conference, the Ohio Music Educators Association Conference seven times (2001, 2004, 2006, 2008, 2011, 2013 and 2018), with BalletMet Columbus (2003, 2011), and presents numerous performances both on and off campus.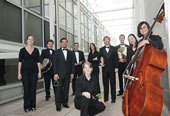 Visit Recordings to hear audio clips of Wind Symphony CDs.
Auditions are required for membership in Wind Symphony.
Wind Symphony – Russel C. Mikkelson, conductor; mikkelson.1@osu.edu
Undergraduate: Music 2204.01 | Graduate: Music 7204.01
Classes meet MWF 1:50–3:55 p.m.