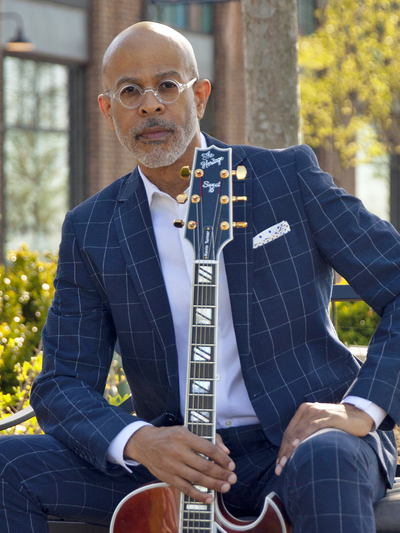 Kevin Turner
Assistant Teaching Professor of Jazz Guitar
N464 Timashev Building
1866 College Rd
Columbus, OH 43210
info@kevinturnermusic.com
Areas of Expertise
Jazz Theory
Jazz Improvisation 2
Jazz Guitar
Art Blakey Combo
School Orchestra Literature
Music Education, Guitar Classes, Beginning Guitar
Small Ensemble Arranging
Education
Jazz Studies, The Ohio State University
Music Education, University of Illinois
Columbus, Ohio native Kevin Turner is a professional musician and educator. He began playing the guitar at age 9 and began his professional career at age 16 as a member of the Hank Marr Trio. Turner has performed and recorded with many artists as both a guitarist and bassist. Over the years he has performed with a host of recording artists that include Ray Charles, Kirk Whalum, Oleta Adams, Lalah Hathaway, Diane Schuur and Dr. John.

During his high school years Turner attended Columbus' Fort Hayes Career Center where he studied instrumental music. He holds a bachelor's degree in jazz studies from The Ohio State University and a master's degree in music education from the University of Illinois. Turner has taught on the university level at both Ohio State and the University of Illinois. Additionally, he has taught at Fort Hayes Metropolitan High School for the Performing Arts (Columbus) and in the Champaign (Illinois) Unit 4 School District. For 14 years in the CUSD Turner taught orchestra/strings (grades 4–12) as well as beginning guitar, and directed jazz bands.

Turner released his award-winning and Stellar-nominated gospel jazz CD entitled HIM in October 2005. His publications include Beginning Guitar Class: A Semester Study.
Turner is the husband of Ohio State accounting faculty member Cynthia Turner, and the father of 3 children — Julien, Justen and Kia.
People Filters: