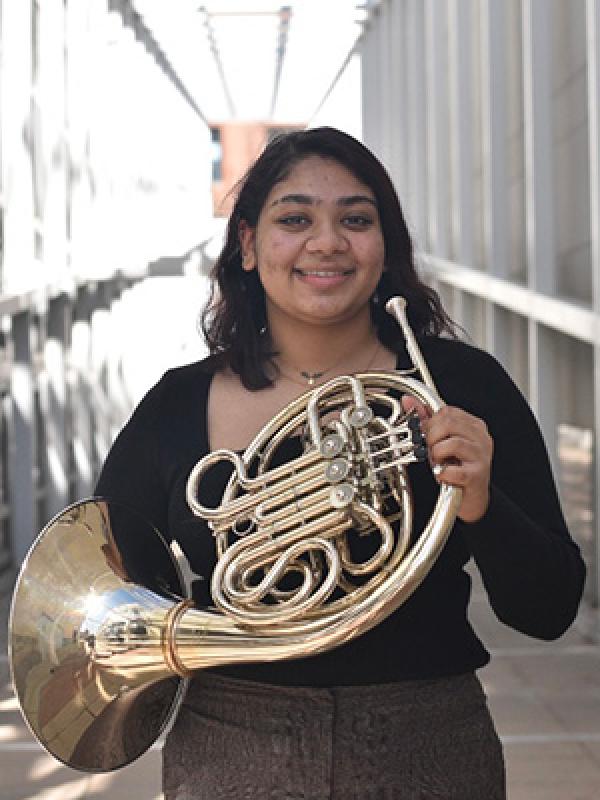 Ila V. Sharma
Graduate Associate
Education
BM, Composition, The Ohio State University
Ila V. Sharma is a graduate teaching associate and masters student in music theory and composition at The Ohio State University. Ila, who is originally from Great Falls, Virginia, graduated from The Ohio State University in 2023 with a Bachelor of Music in Composition and a minor in Music, Media and Enterprise. As an undergraduate student at Ohio State, Ila participated in student organizations such as The New Music Collective and Sigma Alpha Iota International Music Fraternity. 
As a composer, Ila has studied with Professors Thomas Wells, Vera Stanojevic and Michael Rene Torres. Ila also holds a special interest in the works of Olivier Messiaen, particularly in his piece for organ entitled Apparition de l'Église éternelle.
As a music theory student, Ila is interested in the intersection between composition and music theory, and how each subject can help inform the other. Ila is also interested in how music theory education can inform compositional style. Additionally, Ila holds a special interest in the accessibility of music education, as well as how music education can include diversity, equity, inclusion, and justice (DEIJ).
Outside of school, Ila can be found spending time outdoors, cooking, and spending time with her cat, Mater.
People Filters: