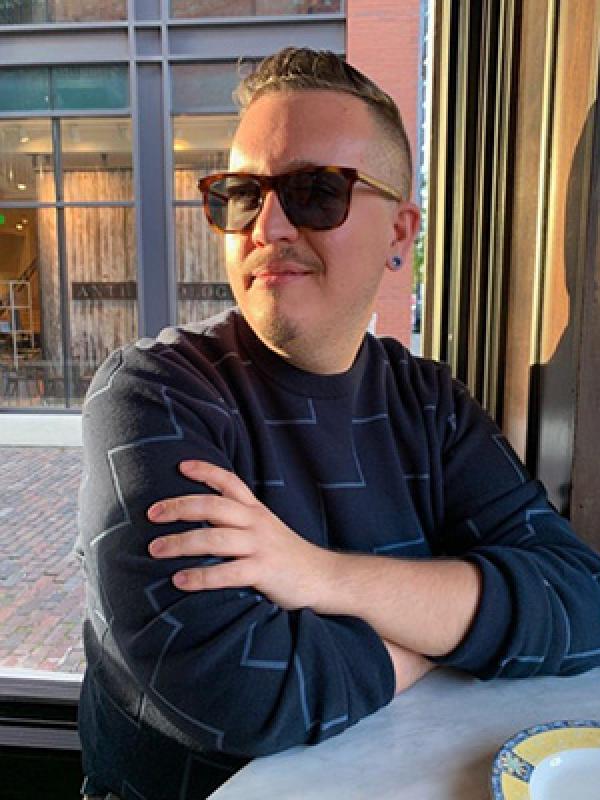 Nicholas Riley
Graduate Associate
Areas of Expertise
Music teacher education
Pageantry arts show design and adjudication
Non-profit arts management
Marching percussion pedagogy
Education
Master of Arts in Music Education, The Ohio State University (2023)
Bachelor of Music in Music Education, Capital University (2011)
Nick Riley is currently pursuing a PhD in Music Education at The Ohio State University where he is a graduate teaching associate, instructing and assisting courses in music teacher education and supervising student teachers in the field.
Nick earned his Bachelor of Music in Music Education from Capital University in 2011 and his Master of Arts in Music Education from Ohio State in 2023. In the interim before pursuing his graduate studies full-time, Nick was the director of bands for Liberty Center Local Schools in rural northwest Ohio from 2012–2021. Under Nick's direction, the band program more than doubled in size and boasted highly successful marching, concert and chamber ensembles.
In the winter months, Nick serves as ensemble director, program coordinator, and ensemble specialist for ConneXus, a Percussion Independent World (PIW) indoor percussion ensemble from Cincinnati, Ohio. Nick co-founded the ConneXus organization in 2012 and has served as the president of the ConneXus Performing Arts Association, Inc. since 2016. ConneXus is a four-time Winter Guard International (WGI) Regional Champion and a five-time WGI World Championships Finalist. Nick was elected as a percussion representative on the Board of Directors for the Mid-East Performance Association in 2022.
Nick is a prolific composer/arranger for all aspects of the pageantry arts as founder/composer of NPR Marching Concepts: The Music of Nick Riley, a web-based marching arts music design business. Since 2007, Nick has composed over 600 works for nearly 100 ensembles across the United States and South America. His music for indoor percussion is also published by Gary P. Gilroy Publications and Marching Show Concepts. Nick's music is highly regarded for its innovation, unique orchestrations, entertainment value, and competitive success.
An accomplished adjudicator for the pageantry arts, Nick has been judging for the Central States Judges Association since 2013 and the Ohio Music Education Association since 2012. Specializing in music performance, music general effect and percussion, Nick has adjudicated in nine states and has served on championship-level judge panels in Ohio, Kentucky, Pennsylvania and Tennessee. 
In addition to serving on the instructional staffs of over 30 high school marching band and indoor percussion programs, Nick has also held staff appointments with Legends Drum & Bugle Corps, Pioneer Drum & Bugle Corps, Colts Drum & Bugle Corps, The Ohio State University Marching Band, and The Gran Banda Drum & Bugle Corps (Medellín, Colombia, South America). The "GB" is the first ensemble from South America to perform in Drum Corps International (DCI) events and was the 2014 DCI SoundSport Champion.
Nick is a proud member of CSJA, OMEA, PFCJ, NAfME, ASCAP, and PAS. He holds endorsements from Vic Firth, Evans/D'Addario, Sabian, and Black Swamp Percussion. He resides in Columbus, Ohio.