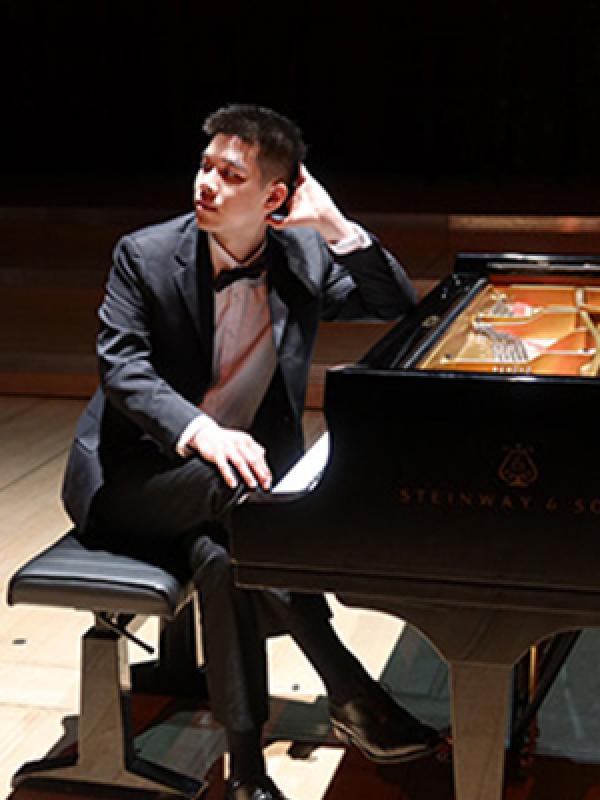 Kaiwei Guo
Graduate Associate
Education
Artist Diploma, Master of Arts, Royal Conservatoire of Scotland
Bachelor of Music, Xiamen University
Kaiwei Guo, a pianist from China, is pursuing a Doctor of Musical Arts degree at The Ohio State University under the mentorship of Professor Steven Glaser. He is a graduate teaching associate, primarily serving as an ensemble pianist.
Prior to his time in Columbus, Guo graduated with top honors from the Art College of Xiamen University, China. Subsequently, he embarked on an academic journey overseas, securing admission to the Royal Conservatoire of Scotland (United Kingdom), where he pursued both a master's degree in performance and an Artist Diploma. His outstanding achievements in the UK included graduating with distinction and earning a full scholarship after successfully auditioning for the school's most prestigious Artist Diploma. Throughout his studies in the UK, he was privileged to study with illustrious pianist and educator, Professor Fali Pavri.
Guo's accolades extend beyond academia. He has achieved remarkable success in numerous international and domestic piano competitions, including clinching first place in the 2019 KIMI International Piano Competition (South Korea), securing the top spot in the 2022 Birmingham International Piano Competition (UK), and attaining  second place in the 2019 Franz Liszt International Youth Piano Competition (China), among other notable achievements. His musical odyssey has traversed diverse countries, encompassing China, the UK, the United States, South Korea and Austria. As first-prize winner of the 2019 KIMI International Piano Competition, he was awarded the honor of performing at the iconic Carnegie Hall (United States). While pursuing his doctoral studies, Guo continues to diligently develop his musical career. As a contracted artist at the prestigious Nanjing Youth Music Festival (China) in July 2023, he performed in multiple thematic concerts, contributed his expertise via piano performance master classes, and served as an adjudicator for the festival competitions.
People Filters: