May 26, 2023
Elisabeth Shafer joins School of Music faculty
Image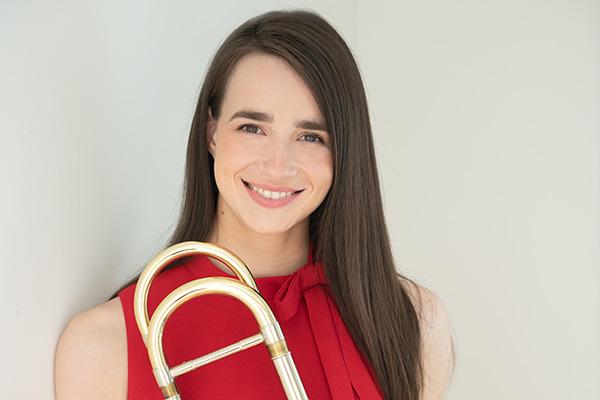 Description
Following a national search, the School of Music is pleased to announce the hire of Elisabeth Shafer as Visiting Assistant Professor of Trombone.
We are thrilled to have Professor Elisabeth Shafer joining our brass faculty at The Ohio State University School of Music. Her stellar record as both performer and pedagogue will be a wonderful addition to our performance area, and we look forward to having her versatile talents on our campus!

Susan Powell, DM, Professor and Area Head of Performance
Hailed by The Boston Musical Intelligencer as "outstanding" and "fearless," Dr. Elisabeth Shafer, a native of State College, Pennsylvania, is a dedicated performer. and music educator. She has appeared in concert with numerous ensembles, including the Memphis, Akron, Youngstown, Eastern Connecticut, Nittany Valley and Jackson symphony orchestras; ProMusica Columbus, Detroit Chamber Winds and Strings, Michigan Opera Theatre Orchestra, Erie Philharmonic, CityMusic Cleveland Chamber Orchestra, Toledo Symphony Brass, Akron Symphonic Winds, Memphis Jazz Orchestra, DanJo Jazz Orchestra, Symphony in C, and Barclay Brass. She was the interim core member of Seraph Brass from 2019–2021, and has appeared as a guest soloist with Seraph Brass, The University of Akron Symphonic and Concert Bands, The University of Akron Symphony Orchestra, and the Perry High School Symphonic Winds at the Ohio Music Education Association Conference. She has presented solo and chamber performances at the American Trombone Workshop, the International Trombone Festival, and the International Women's Brass Conference, including a presentation entitled "Songs She Wrote: A Joint Recital of Works by Women Composers." Shafer frequently performs chamber and solo recitals at universities across the country.
Shafer serves as Visiting Assistant Professor of Trombone at The Ohio State University. Prior to this appointment, she served on the faculty at the University of Memphis and the University of Akron. She has taught at the Boston University Tanglewood Institute Trombone Workshop, was a teaching artist in the Music in Schools Initiative in New Haven, Connecticut, and is currently on the faculty at Luzeme Music Center, a summer arts organization in the Adirondacks devoted to bringing enriching musical musical experience and education to young musicians from around the world. She has presented clinics for the International Trombone Workshop, the Ohio Music Education Association Conference, and the Tobi Institute. She frequently gives clinics at schools and universities across the United States. 
Shafer holds three degrees in trombone performance, having earned her Doctor of Musical Arts from Boston University, Master of Music from Yale School of Music, and Bachelor of Music from Temple University. Her primary teachers include Toby Oft, Scott Hartman, and Matthew Vaughn. Dr. Shafer is a Conn-Selmer Artist.
---