Sunday, April 14, 2019 - 3:00pm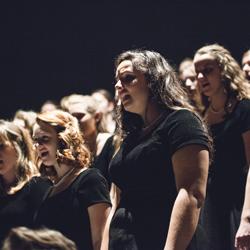 The ensembles present a joint concert, featuring the Women's Glee Club performing Giovanni Battista Pergolesi's Stabat Mater. Vocal soloists Jordan Shafer, Cayla Kass, Alyssa Schott, Gabi Winter, Ruth Peart and Hannah Bachmann; with instrumentalists Anita Chiu and Valeriya, violin; Abigail Watson, viola; Sam Johnson, cello. Kristina Caswell MacMullen, conductor; Casey L. Cook, pianist; Elizabeth Hainrihar and Xin Su, graduate teaching associates.
Symphonic Choir's program features John Corigliano's "Fern Hill" conducted by Robert J. Ward, with mezzo-soprano soloist Sandra Sharis; Carolyn Jennings' "A Feast of Lanterns," Randall Thompson's "Choose Something Like a Star," conducted by Tyler Robertson; Dominick Argento's "Gloria" from the opera The Masque of Angels. Prof. MacMullen, conductor; Ms. Cook, pianist; Prof. Robert J. Ward, director of Choral Studies; Tyler Robertson, graduate teaching associate.
This concert is free and open to the public. No ticket required.
Livestream broadcast begins at 3 p.m.