Sunday, April 5, 2020 - 5:30pm
Mershon Auditorium, 1871 N. High St.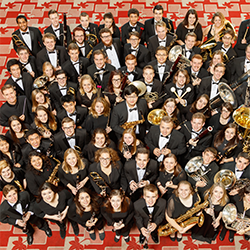 Selections include Sacred Spaces, John Mackey; Twist, Jodie Blackshaw; Caminantes ("hikers" or "walkers"), Ricardo Lorenz; Traveler, David Maslanka; Bushdance, Ralph Hultgren. Scott A. Jones, conductor; T. J. Mack (MM), guest conductor (Bushdance).
This concert is free and open to the public. No ticket required.
---
School of Music ensembles are performing throughout the community while construction to Weigel Hall is underway. We extend our sincerest gratitude to our hosts for this performance.
A new home for the School of Music
The transformative Ohio State Arts District project includes a renovated and expanded School of Music. This new facility is an investment in our future performers, music educators, conductors and scholars. To learn more, visit go.osu.edu/artsdistrict.