Sunday, November 24, 2019 - 5:00pm
Mershon Auditorium, 1871 N High St, Columbus 43210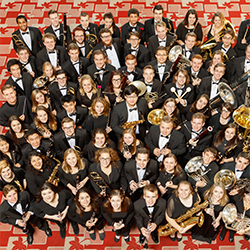 The Symphonic Band presents a concert on campus at Mershon Auditorium. Scott A. Jones, conductor; Daniel Farr, guest conductor; James Stephenson, guest composer.

Program selections include Silver Light!, Benjamin Yeo; Diversion for Alto Saxophone and Band, Bernhard Heiden/Rogers, Michael René Torres, soloist;
Essay for Band, Roger Dickerson; there are no words, James Stephenson; Let My Love Be Heard, Jake Runestad; Bali, Michael Colgrass, Daniel Farr (DMA student), guest conductor.