Saturday, October 20, 2018 - 3:00pm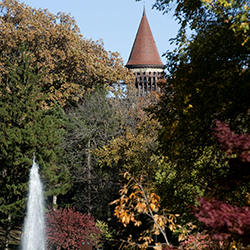 School of Music students will present a showcase concert in association with Ohio State's Parent and Family Weekend, which offers many events and activities planned especially for students and families.
Program selections by LoPresti, Hageman, Ligeti, Rachmaninov, Plagge, Schocker, Ysaÿe, Weissenborn, Monroe, Kelly Via, Farrell & Russell/arr. K. B. Jones, Young/arr. Tim Sarsany, Simon and Mayfield/arr. Zac DelMonte, as well as traditional Buckeye music.

Solo and chamber performers include Sadiyah Babatunde, soprano with Jiung Yoon, piano; Wei-Yi Sun, piano; Phillip Claasen, horn; Kayla Bradley, Grace Forrai, Sunao Masunaga and Emily Nothnagle, flutes; Anita Chiu, violin; Nate Centa, Adrian Oliver and Maxwell Zywica, bassoons; and a woodwind quintet (Daniel Gallagher, flute; Sam Zelnik, oboe; Cosmos Fristachi, clarinet; Ian Bell, bassoon; Benjamin Hottensmith, horn). Ensembles performing are The Ohio State University Flute Troupe, the OSU Trumpet Ensemble and The Statesmen, directed by Katherine Borst Jones, Timothy Leasure and Zac DelMonte, respectively.
All are welcome to this performance. The event is free and open to the public; no ticket required.