Thursday, March 8, 2018 - 8:00pm
Friday, March 9, 2018 - 8:00pm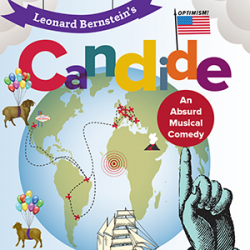 Leonard Bernstein's CANDIDE
An absurd musical comedy
MUSIC by Leonard Bernstein
BOOK by Hugh Wheeler, after Voltaire
LYRICS by Richard Wilbur
ADDITIONAL LYRICS by Stephen Sondheim, John La Touche, Lillian Hellman, Dorothy Parker and Leonard Bernstein

Directed by A. Scott Parry
With the Ohio State Symphony Orchestra
conducted by David Becker
This semi-staged concert production is in celebration of 100 years of Leonard Bernstein (1918-1990).
Based on the French philosopher Voltaire's novella of the same name, Candide is an around-the-world romp of idealistic optimism and a series of absurdly unfortunate events. The naïve Candide is infatuated with the high-born Cunegonde, and, along with her brother Maximilian and the serving maid Paquette, they subscribe to the axiom that has been taught to them by Dr. Pangloss: that everything that happens is always for the best. This simple doctrine is called into question as Candide is exiled, caught up in an Inquisition, cheated out of a fantastic fortune, cast into a squalid commune, and continuously kept from his one true love. With an ingenious score by the legendary Leonard Bernstein, Candide is a bitingly hysterical political satire on life and the very nature of human existence.
"The rules of satire are such that it must do more than make you laugh. No matter how amusing it is, it doesn't count unless you find yourself wincing a little even as you chuckle. First make people laugh, and then make them think." From the earliest of times, the primary topics of satire have been politics, religion and sex, partly because these are the most pressing issues that affect anyone living in a pluralistic society, and partly because these subjects are usually taboo. Therefore, parental guidance is strongly suggested for anyone under the age of 13.
Tickets: General admission — $20/general public; $10/senior citizens, Alumni Association members, Ohio State faculty and staff, students. Tickets on sale through the Ohio State Theatre Ticket Office (614) 292-2295 (M–F, 10 a.m.–4 p.m.), at ticketmaster.com or at the door.

By arrangement with Boosey & Hawkes, Inc., sole agent for Leonard Bernstein Music Publishing Company LLC, publisher and copyright holder.