Sunday, November 17, 2019 - 3:00pm
Worthington Presbyterian Church, 773 High St, Worthington 43085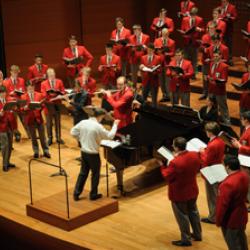 The Ohio State Men's Glee Club and the Bowling Green State University Men's Chorus present a joint concert at Worthington Presbyterian Church, 773 High St., Worthington. Robert J. Ward (conductor, MGC) and School of Music alumnus, Richard Schnipke (conductor, BGSU Men's Chorus).
This event is free and open to the public.
---
School of Music ensembles are performing throughout the community while construction to Weigel Hall is underway. We extend our sincerest gratitude to our hosts for this performance.

A new home for the School of Music
The transformative Ohio State Arts District project includes a renovated and expanded School of Music. This new facility is an investment in our future performers, music educators, conductors and scholars. To learn more, visit go.osu.edu/artsdistrict.