Friday, November 16, 2018 - 8:00pm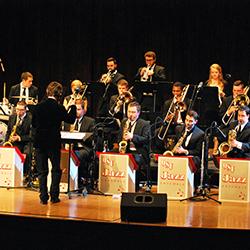 The Ohio State University Jazz Ensemble (Kris Keith conducting) presents Mambo y Samba, a program of big band music influenced by the melodies and rhythms of Cuba and South America. The concert is a collaboration between Capital University, the OSU Center for Latin American Studies, the OSU Organization of Hispanic and Latino Faculty and Staff, and the OSU Salsa Club. Guest artists joining us will be Capital University faculty percussionist, Eric "the fish" Paton; Venezuelan percussionist, Francisco Rojas; and Brazilian vocalist, Kenia. Don't miss this special performance!
This concert is free and open to the public. No ticket required.