Saturday, April 13, 2019 - 8:00pm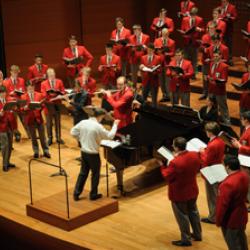 University Chorus opens the program with selections by Percy Grainger, David N. Childs, Lloyd Pfautsch and an arrangement by Brant Adams. Men's Glee performs selections by Robert Seeley, Ippolitov-Ivanov/arr. Chesnokov; and an arrangement by Kevin Memley.
The Statesmen present several arrangements by Zac DelMonte, Emerson Slicer and John Gudz. Robert J. Ward, conductor of University Chorus and Men's Glee Club; Casey L. Cook, associate conductor and accompanist; Xin Su and Alex Port, guest conductors; Zac DelMonte, director of The Statesmen. .
This event is free and open to the public. No ticket required.
Livestream broadcast begins at 8 p.m.