Wednesday, March 20, 2019 - 8:00pm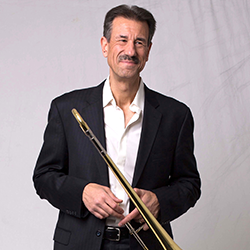 Guest artist John Fedchock, trombone
with the All-Star Alumni Sextet

Sponsored by the Jazz Club at Ohio State
Celebrating the fortieth reunion of the original 1979 jazz sextet. All-Star Alumni Sextet: Kim Pensyl, trumpet; Randy Mather, tenor sax; Robert Mason, piano; Terry Douds, bass; Jim Rupp, drums.
This concert is presented as part of the 42nd Annual Jazz Festival. It is free and open to the public. No ticket required.
Livestream broadcast begins at 8 p.m.
---

John Fedchock's illustrious career in jazz has spanned over three decades. Since his emergence on the scene in 1980, Fedchock has established himself as a world-class trombone soloist, heralded bandleader and Grammy-nominated arranger. An in-demand performer and writer in New York City, his multifaceted talents have led him to become one of NYC's premier jazz artists. His critically acclaimed John Fedchock New York Big Band has become a marquee group, showcasing Fedchock's trombone and arranging as well as the band's all-star soloists. The JFNYBB's five CDs on the MAMA and Reservoir Music labels have all received high praise from critics and extraordinary success on national jazz radio charts. The early success of the band resulted in Fedchock's name appearing in Downbeat's Readers Poll under the categories of Trombone, Arranger and Big Band, simultaneously for several consecutive years. In recognition of his formidable arranging skills, Fedchock is a two-time GRAMMY Award nominee for "Best Instrumental Arrangement." More about John Fedchock
The All-Star Alumni Sextet
Celebrating the Fortieth Reunion of the 1979 Ohio State Jazz Sextet
In 1979, fifteen of the eighteen members of the Ohio State Jazz Ensemble graduated together. Having spent 4–5 years together, they were one of the most successful college ensembles in history. They were awarded top honors in the Big Band category at the Notre Dame Jazz Festival (1978 and 1979) and at the Elmhurst Jazz Festival, as well as in the Small Group category at the Notre Dame Jazz Festival. Members receiving Outstanding Soloist awards were Randy Mather, saxophone; John Fedchock, trombone, and Jim Rupp, drums. John Emche received Outstanding Arranger awards. John, an accomplished pianist, arranger and educator, became head of Jazz Studies at the University of South Carolina. John's skill and incredible arrangements were a significant contribution to the style of the ensemble. Sadly, John passed in 1987 and has been missed.
In 1976–1979 the band recorded four albums; "Adventures of Capn' Wake Up" won Downbeat Magazine's award for outstanding college recording. In summer 1978, the band toured Europe, playing at the Nice Jazz Festival and the Montreal Jazz Festivals, as well as concerts across Europe. During their 1979 west coast tour they were featured at the Reno Jazz Festival and played concerts at Donte's Jazz Club (LA) as well as the Keystone Corner Jazz Club (San Francisco). An overview of their individual accomplishments since graduation follows...
John Fedchock is regarded as one the world's outstanding trombonists. John leads his own "New York Big Band" and small group, and has numerous highly acclaimed recordings with both. He was Woody Herman's musical director and is a Grammy nominated arranger. John has his own signature trombone from XO Professional Brass. Kim Pensyl, trumpet, is currently a professor at the University of Cincinnati College Conservatory of Music. Kim is a prolific jazz recording artist, composer, arranger and producer who has twice been named one of Billboard's Top-20 Contemporary Jazz Artists of the year. A pianist and trumpeter, he has had four Top-10 albums on Billboard's Contemporary Jazz charts. Randy Mather, saxophone, has been a fixture and treasure on the Columbus jazz scene for decades. His warm soulful sound and styling have earned him tours and gigs with everyone from The Woody Herman Orchestra, to the Spinners. Terry Douds, bass, is currently on the faculty of Ohio University. Another local treasure, Terry has toured with the Glenn Miller Orchestra and the Woody Herman Orchestra, and he also co-founded CoJazz, a recording label devoted to jazz. Jim Rupp, drums, has toured with The Woody Herman Orchestra, Maynard Ferguson, Diane Schuur, Tony Bennett among others. He is currently on the faculty of Ohio State in the School of music, and plays in the Cleveland Jazz Orchestra and the Cleveland POPS Orchestra.
Tom Battenberg, faculty/director, led the Ohio State Jazz Ensemble for over 20 years, and was the key in the early development of the program. In addition to serving as trumpet professor and leading the jazz ensemble, Tom played trumpet for 50 years in the Columbus Symphony Orchestra, and the Pro Musica Chamber Orchestra. He also led the Dixieland group, the "High Street Stompers" for over 40 years. A superb musician and director, Tom's musicianship and rehearsal skills were a key in the development of the group and the jazz program at Ohio State.
Pianist Robert Mason (Bachelor of Music, Jazz Studies), a recent alumnus, performs with the All-Star Alumni for this occasion.