Saturday, March 23, 2019 - 8:00pm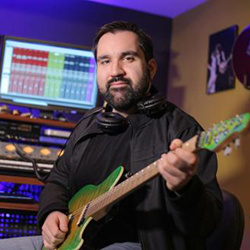 Headline Concert
The Ohio Show Band with guest Richie Castellano of Blue Oyster Cult and Band Geek.
This concert is presented as part of the 42nd Annual Jazz Festival. It is free and open to the public. No ticket required.
Livestream broadcast begins at 8 p.m.
---

Richie Castellano is a New York based musician, producer, singer and songwriter. Since 2004 he has been a member of the classic rock band, Blue Öyster Cult, playing shows all over the world and performing on live broadcasts for Fox, Direct TV, Yahoo, iHeartRadio and Hard Rock Live. Castellano is also active on YouTube, with over 5 million views. His most popular video is a split-screen cover of Queen's "Bohemian Rhapsody" in which he played and sang every part. Richie has his own show, Band Geek, where he and a group of fellow musicians produce comedy bits and music videos covering challenging music from a wide variety of artists. Castellano holds a bachelor's degree in music production and a master's degree in studio composition from the Purchase College Conservatory of Music. As a songwriter he has released four albums of original material and has composed music for EA Games, comedians such as Nick DiPaolo and Kevin Brennan, and various corporate clients. As a producer, Castellano has worked with Regina Spektor, MTV, and American Musical Supply. Richie Castellano is proudly endorsed by Audio-Technica, Line 6 and DiMarzio Pickups.