Friday, March 22, 2019 - 8:00pm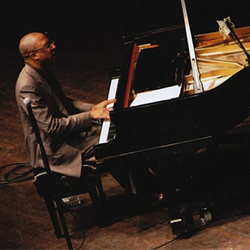 Guest pianist Xavier Davis presents a concert with the Ohio Jaztet: Anthony Stanco, trumpet; Shawn Wallace, saxophone; Kevin Turner, guitar; Andy Woodson, bass; Jim Rupp, drums.
Come early! Xavier will give a master class at 6:30 in Weigel Hall, Room 174.
This concert is presented as part of the 42nd Annual Jazz Festival. It is free and open to the public. No ticket required.
Livestream broadcast begins at 8 p.m.
---

Xavier Davis' professional career as a jazz pianist took off when the legendary vocalist Betty Carter spotted his outstanding talent at the 1994 International Association of Jazz Educators convention in Boston while he was performing with his college ensemble. It was she who brought Xavier to New York, hiring him exclusively as the pianist of her working trio. Today, Xavier Davis is one of the most accomplished jazz pianists worldwide. Having led master classes and clinics all over the world and coming from a family of music educators, passing on knowledge and skills to young musicians is very important to Davis. As such, he is proud to be associate professor of jazz piano at Michigan State University. Previously, Davis was a member of the teaching staff in the jazz department of the Juilliard School of Music (NY) for six years.