Image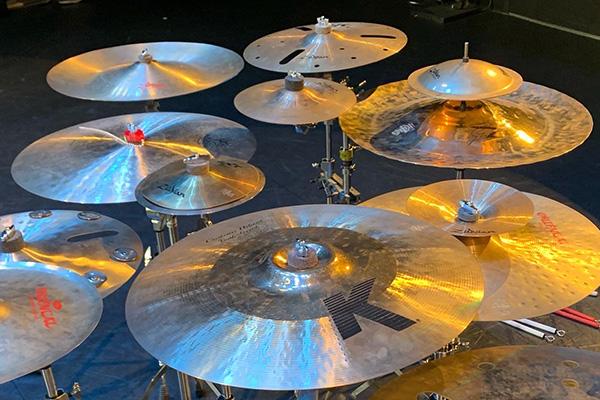 November 30, 2022
7:30PM - 9:00PM
Location
Timashev Building, Room 160
Date Range
Add to Calendar
2022-11-30 19:30:00
2022-11-30 21:00:00
Guest artist Matt Evans, percussionist and composer
The percussion studio welcomes Matt Evans who will present a program of his compositions, featuring Joseph Krygier and Susan Powell, percussion; Michael Rene Torres, saxophone; and the Ohio State Percussion Ensemble. This concert is free and open to the public. Works on this program include "New Topographics" with Joseph Krygier and Susan Powell; "Hyperbolic Time Chamber," "Soft Science," and "Alocasia" with Michael Rene Torres. Percussion Ensemble members include Donna Brown, Matt Hanson, Emmie Hess, Ben Kerger, Cierra Miller, Hannah Moore, Tres Perkins, Adam Quinn, Erin Rybinski, Sam Sherer, Haydn Veith. Access the digital Concert program before, during or after the performance. No paper programs will be distributed. Matt Evans is a Brooklyn-based drummer and producer making acoustic and electronic music about the poetic interconnections between landscapes: internal, external, fictional and virtual. Taking cues from millennial esoterica, natural phenomena and science fiction, Evans  uses drum-driven hypnotic soundscapes and improvisatory performances to embody the imaginary ecosystems of surreal sonic worlds. In "New Topographics" (2020) and "Soft Science" (2022), vintage synth burbles, percussion skitters, and foraged samples are enmeshed like critters in a sci-fi biome. Evans performs these tracks from the drum kit, with samplers and pedals, embodying the array of characters as a ritualistic representation of these futuristic landscapes. His approach creates a groovy psychedelic instrumental music that is "hyperreal and phantasmal" (Wire Magazine), "meticulous and expressive" (New York Times), and "a form of chill complexity" (New York Times). Matt Evans has performed solo at acclaimed venues such as the Guggenheim, The Kitchen, and Roulette; held residencies with Antenna Cloud Farm, Pioneer Works, OneBeat Sahara, Exploring the Metropolis, and The Shell House; given talks at Wesleyan University, Princeton University,  and Dartmouth College; and released solo records with Whatever's Clever and Moon Glyph Records. Matt has toured with projects Neti-Neti, Tigue, Ensemble Signal, piano trio Bearthoven, Deerhoof, and others. With these groups he has commissioned and performed music by pioneering composers Lea Bertucci, Sarah Hennies, Michael Gordon, Scott Wollschleger, and Steve Reich. Past festival appearances have included Skanu Mesz Festival, Le Guess Who? Festival, Big Ears Festival, and the Summer Nostros Festival.. He's toured throughout the United States and Europe, including shows in Latvia, Poland, Germany, France, Belgium, the UK, Iceland and the Netherlands. Matt has released records with NNA, New Amsterdam, Whatever's Clever, Cantaloupe, Dethbomb Arc, Perfect Wave, Thrill Jockey, Dinzu Artefacts, and Moon Glyph. Matt has a master's degree from the Eastman School of Music and a bachelor's degree from The Ohio State University. All events are subject to change. GETTING HERE While the new building for Theatre, Film and Media Arts remains under construction, the North side of the Timashev Music Building remains closed.  Park in the Ohio Union South Garage (open to visitors 24/7), walk North along College Rd. to enter the South doors of the Timashev Music Building. Weigel Auditorium is located on the second floor at the far south end of the building. An open stairway located just inside the south doors leads to the hall. If an elevator is needed, travel through the Music Commons at the south end of the building, to the hallway to the right of the restrooms. Follow the hallway through the double doors to the Weigel Auditorium elevator. Driving and Parking Instructions   
Timashev Building, Room 160
OSU ASC Drupal 8
ascwebservices@osu.edu
America/New_York
public
Date Range
Add to Calendar
2022-11-30 19:30:00
2022-11-30 21:00:00
Guest artist Matt Evans, percussionist and composer
The percussion studio welcomes Matt Evans who will present a program of his compositions, featuring Joseph Krygier and Susan Powell, percussion; Michael Rene Torres, saxophone; and the Ohio State Percussion Ensemble. This concert is free and open to the public. Works on this program include "New Topographics" with Joseph Krygier and Susan Powell; "Hyperbolic Time Chamber," "Soft Science," and "Alocasia" with Michael Rene Torres. Percussion Ensemble members include Donna Brown, Matt Hanson, Emmie Hess, Ben Kerger, Cierra Miller, Hannah Moore, Tres Perkins, Adam Quinn, Erin Rybinski, Sam Sherer, Haydn Veith. Access the digital Concert program before, during or after the performance. No paper programs will be distributed. Matt Evans is a Brooklyn-based drummer and producer making acoustic and electronic music about the poetic interconnections between landscapes: internal, external, fictional and virtual. Taking cues from millennial esoterica, natural phenomena and science fiction, Evans  uses drum-driven hypnotic soundscapes and improvisatory performances to embody the imaginary ecosystems of surreal sonic worlds. In "New Topographics" (2020) and "Soft Science" (2022), vintage synth burbles, percussion skitters, and foraged samples are enmeshed like critters in a sci-fi biome. Evans performs these tracks from the drum kit, with samplers and pedals, embodying the array of characters as a ritualistic representation of these futuristic landscapes. His approach creates a groovy psychedelic instrumental music that is "hyperreal and phantasmal" (Wire Magazine), "meticulous and expressive" (New York Times), and "a form of chill complexity" (New York Times). Matt Evans has performed solo at acclaimed venues such as the Guggenheim, The Kitchen, and Roulette; held residencies with Antenna Cloud Farm, Pioneer Works, OneBeat Sahara, Exploring the Metropolis, and The Shell House; given talks at Wesleyan University, Princeton University,  and Dartmouth College; and released solo records with Whatever's Clever and Moon Glyph Records. Matt has toured with projects Neti-Neti, Tigue, Ensemble Signal, piano trio Bearthoven, Deerhoof, and others. With these groups he has commissioned and performed music by pioneering composers Lea Bertucci, Sarah Hennies, Michael Gordon, Scott Wollschleger, and Steve Reich. Past festival appearances have included Skanu Mesz Festival, Le Guess Who? Festival, Big Ears Festival, and the Summer Nostros Festival.. He's toured throughout the United States and Europe, including shows in Latvia, Poland, Germany, France, Belgium, the UK, Iceland and the Netherlands. Matt has released records with NNA, New Amsterdam, Whatever's Clever, Cantaloupe, Dethbomb Arc, Perfect Wave, Thrill Jockey, Dinzu Artefacts, and Moon Glyph. Matt has a master's degree from the Eastman School of Music and a bachelor's degree from The Ohio State University. All events are subject to change. GETTING HERE While the new building for Theatre, Film and Media Arts remains under construction, the North side of the Timashev Music Building remains closed.  Park in the Ohio Union South Garage (open to visitors 24/7), walk North along College Rd. to enter the South doors of the Timashev Music Building. Weigel Auditorium is located on the second floor at the far south end of the building. An open stairway located just inside the south doors leads to the hall. If an elevator is needed, travel through the Music Commons at the south end of the building, to the hallway to the right of the restrooms. Follow the hallway through the double doors to the Weigel Auditorium elevator. Driving and Parking Instructions   
Timashev Building, Room 160
School of Music
music@osu.edu
America/New_York
public
Description
The percussion studio welcomes Matt Evans who will present a program of his compositions, featuring Joseph Krygier and Susan Powell, percussion; Michael Rene Torres, saxophone; and the Ohio State Percussion Ensemble. This concert is free and open to the public.
Works on this program include "New Topographics" with Joseph Krygier and Susan Powell; "Hyperbolic Time Chamber," "Soft Science," and "Alocasia" with Michael Rene Torres. Percussion Ensemble members include Donna Brown, Matt Hanson, Emmie Hess, Ben Kerger, Cierra Miller, Hannah Moore, Tres Perkins, Adam Quinn, Erin Rybinski, Sam Sherer, Haydn Veith.
---
Access the digital Concert program before, during or after the performance. No paper programs will be distributed.
Matt Evans is a Brooklyn-based drummer and producer making acoustic and electronic music about the poetic interconnections between landscapes: internal, external, fictional and virtual. Taking cues from millennial esoterica, natural phenomena and science fiction, Evans  uses drum-driven hypnotic soundscapes and improvisatory performances to embody the imaginary ecosystems of surreal sonic worlds. In "New Topographics" (2020) and "Soft Science" (2022), vintage synth burbles, percussion skitters, and foraged samples are enmeshed like critters in a sci-fi biome. Evans performs these tracks from the drum kit, with samplers and pedals, embodying the array of characters as a ritualistic representation of these futuristic landscapes. His approach creates a groovy psychedelic instrumental music that is "hyperreal and phantasmal" (Wire Magazine), "meticulous and expressive" (New York Times), and "a form of chill complexity" (New York Times).
Matt Evans has performed solo at acclaimed venues such as the Guggenheim, The Kitchen, and Roulette; held residencies with Antenna Cloud Farm, Pioneer Works, OneBeat Sahara, Exploring the Metropolis, and The Shell House; given talks at Wesleyan University, Princeton University,  and Dartmouth College; and released solo records with Whatever's Clever and Moon Glyph Records. Matt has toured with projects Neti-Neti, Tigue, Ensemble Signal, piano trio Bearthoven, Deerhoof, and others. With these groups he has commissioned and performed music by pioneering composers Lea Bertucci, Sarah Hennies, Michael Gordon, Scott Wollschleger, and Steve Reich. Past festival appearances have included Skanu Mesz Festival, Le Guess Who? Festival, Big Ears Festival, and the Summer Nostros Festival.. He's toured throughout the United States and Europe, including shows in Latvia, Poland, Germany, France, Belgium, the UK, Iceland and the Netherlands. Matt has released records with NNA, New Amsterdam, Whatever's Clever, Cantaloupe, Dethbomb Arc, Perfect Wave, Thrill Jockey, Dinzu Artefacts, and Moon Glyph. Matt has a master's degree from the Eastman School of Music and a bachelor's degree from The Ohio State University.
All events are subject to change.
---
GETTING HERE
While the new building for Theatre, Film and Media Arts remains under construction, the North side of the Timashev Music Building remains closed. 
Park in the Ohio Union South Garage (open to visitors 24/7), walk North along College Rd. to enter the South doors of the Timashev Music Building.
Weigel Auditorium is located on the second floor at the far south end of the building. An open stairway located just inside the south doors leads to the hall.
If an elevator is needed, travel through the Music Commons at the south end of the building, to the hallway to the right of the restrooms. Follow the hallway through the double doors to the Weigel Auditorium elevator.
Driving and Parking Instructions 
Events Filters:
---