Monday, October 8, 2018 - 8:00pm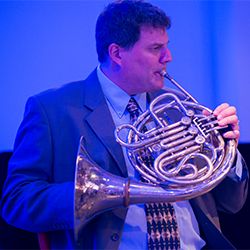 The School of Music welcomes guest artists Michael Slatkin, horn and The Lev-Evans Duo: Mark Evans and Gili Melamed-Lev, piano. Program selections include Two Preludes for Solo Horn, Yehezkel Bruan; Sonata for Four Hands, Francis Poulenc; Adagio and Allegro movements from String Sextet, op. 18, Johannes Brahms; Nocturne for Horn and Piano, Franz Strauss; Two Short Pieces from Jeux d'Enfants ("Children's Games"), Georges Bizet; Horn Concerto No. 4, W. A. Mozart; and two movements from the Dolly Suite, Gabriel Fauré.

Michael Slatkin is the current head of the Orchestral Training Program and the wind department at the Buchmann-Mehta Academy of Music in Tel Aviv and serves on the faculties of the Jerusalem Academy of Music and Dance and the Sadna Conservatory.
Mark Evans is assistant professor of piano at the Schenectady County Community College School of Music and director of the SCCC Chamber Music Series. Gili Melamed-Lev, founder and artistic director of The Concerts at Camphill Ghent in Chatham, NY, enjoys a career as a soloist, chamber musician and collaborative artist.
This concert is free and open to the public. No ticket required.