Friday, March 27, 2020 - 8:00pm
Hughes Hall Auditorium, 1899 College Rd.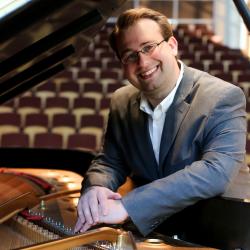 *** Canceled ***

The School of Music welcomes guest artist Andrew Focks who will present a concert at 8 p.m. and a master class at 2:30 p.m. Concert program selections include:
Bach/Busoni — Chaconne from Partita No. 2 in D Minor, BWV 1004;
Beethoven — Piano Sonata No. 23 in F Minor, Op. 57 ("Appassionata");
Saint-Saëns/Liszt — Danse Macabre, Op. 40/S. 555;
Liszt — Vallée d'Obermann from Années de Pèlerinage I (Suisse).
Andrew Focks continues to garner worldwide acclaim for the breathtaking intensity and freedom of his performances, combining brilliant virtuosity with profound depth and introspection. Jon Kimura Parker states, "Andrew Focks is not only a superb pianist, but an engaging, articulate, and creative musician. He is just what we need in the music world today: a born communicator!"

An award-winning pianist, Andrew Focks has performed as a solo recitalist, concerto soloist and chamber musician in venues internationally throughout Hungary, Italy, Austria, Germany, England and China. Within the United States he has appeared in cities such as New York, Boston, Chicago, Houston, Cleveland, Tampa, Albuquerque, San Jose, Tallahassee, Sarasota, Miami, Ft. Myers, Birmingham, Naples, Pittsburgh and Cincinnati, among many others. He has made successful solo debuts in concert halls around the world, including Carnegie Hall's Weill Recital Hall, and has been broadcasted on television and radio. His command of an unusually vast repertoire has led to collaborations with a myriad of artists, most recently including members of the Cleveland Orchestra and Grand Rapids Symphony.

Greatly in demand as a teacher, Andrew Focks' students have performed in venues including Millennium Park (Chicago), Severance Hall (Cleveland), Carnegie Hall (New York), Hollywood Bowl (Los Angeles), Olympiahalle (Munich), Barclaycard Arena (Hamburg), The Kennedy Center (Washington D.C.), the White House and more. The students continue to be frequent scholarship recipients and competition prizewinners at the regional, national and international levels.

A frequent masterclass clinician, Dr. Focks regularly sits on the juries of competitions and teaches at summer academies both in the United States and abroad. Additionally, he presents lectures at music conferences, including the National Conference on Keyboard Pedagogy. He is the 2020 President-Elect of the Ohio Music Teachers Association, where he currently serves as a vice president, and is also President of the Northeast Ohio Music Teachers Association. He has served on multiple arts committees and as chair for state music conferences. His article "A Conversation with Robert Levin" was the featured cover story of Clavier Companion (July/August 2016).

Dr. Focks is a member of the piano faculty at Cleveland State University and the Cleveland Institute of Music Preparatory & Continuing Education Division. A graduate of the Cleveland Institute of Music, Rice University and Florida State University, his studies were further supplemented at academies throughout the world, including many summers at the Mozarteum Academy in Salzburg, Austria. During his education he performed for several of today's leading pianists including Andras Schiff and Richard Goode. His pre-college music education was nurtured and developed at the New England Conservatory of Music. His mentors have included Arnaldo Cohen, Ya-Fei Chuang, Jon Kimura Parker, Robert Levin and Daniel Shapiro.
All Ohio State events scheduled through the end of Spring semester have been canceled, rescheduled or reformatted. The safety of our community is our top priority. We will continue to provide updates as more information becomes available.
---
A new home for the School of Music
The transformative Ohio State Arts District project includes a renovated and expanded School of Music. This new facility is an investment in our future performers, music educators, conductors and scholars. To learn more, visit go.osu.edu/artsdistrict.