Tuesday, October 16, 2018 - 8:00pm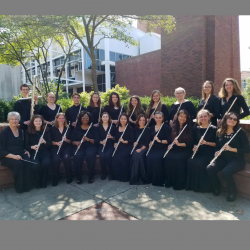 Comprised of all current graduate and undergraduate flute students of Katherine Borst Jones, the Flute Troupe presents a recital of compositions and arrangements by Ervin Monroe, Kelly Via, Paul Gilson, Gary Schocker, G. F. Handel/arr. K. B. Jones, Jean Sibelius, Nancy Galbraith, Irving Berlin/arr. Bill Holcombe. Katherine Borst Jones, director; Daniel Gallagher, assistant director.
Ensemble members are Alison Addie, Keaton Aldrich, Alexandria Biondo, Kayla Bradley, Claire Butler, Nicole Conte, Elise (Jaime) Davis, Grace Forrai, Daniel Gallagher, Sophie Gallucci, Alexandra Goad, Irene Guggenheim-Triana, Rachel Howard, Peyton Marion, Sunao Masunaga, Maggie McCarter, Maria Morganti, Emily Nothnagle, Hailey Nowacek, Maren Primm, Peyton Sandri and Daniel Zipin.
This recital is free and open to the public. No ticket required.