Monday, February 27, 2017 - 8:00pm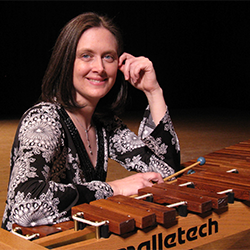 Professor Susan Powell will present an eclectic program of works for percussion, encompassing contemporary, jazz, ragtime and world styles.
Included on the program will be the premiere performance of Sonata for Xylophone by recent School of Music graduate Zack Koors, as well as Mosaics and Ornate Wobbegong by Powell, Myotokuji by Mark Duggan, and a new piece for multiple percussion by Joseph Krygier.
Closing the program will be Any Rags?, a novelty ragtime arrangement by Powell featuring faculty member Joseph Krygier, along with three recent DMA graduates - Nomi Marcus, Mario Marini and Lane Summerlin.
This recital is free and open to the public.