Tuesday, January 21, 2014 -

8:00pm

to

9:30pm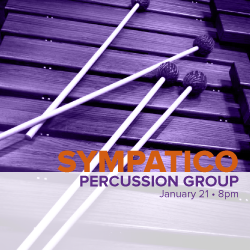 Sympatico Percussion Group presents an eclectic mix of music styles ranging from ragtime to contemporary. Ohio State percussion faculty Susan Powell and Joseph Krygier will be joined by Amy Garapic, Scott Herring and Christopher Norton, with guest artists Mark Rubinstein, accordion and Kevin Schempf, bass clarinet.
Program: Nola, Felix Arndt/arr. Cahn; Unseen Child, Bob Becker; Slow Swirl by the Edge of the Sea, Mark Duggan; Dill Pickles, Charles Johnson; Under the Umbrella, Jo Kondo; Kyoto, John Psathas; música salida (para una película), Radiohead; Song of Circles and Triangles, Toru Takemitsu/arr. Engelman; and Malachite Glass, Nigel Westlake.
Read the Columbus Dispatch concert preview article by Bill Mayr:

http://www.dispatch.com/content/stories/life_and_entertainment/2014/01/16/drum-crew-marches-to-sound-of-many-different-instruments.html
---