Monday, September 24, 2018 - 8:00pm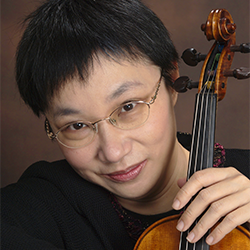 Featuring string duos presented by Kia-Hui Tan, professor of violin, with visiting scholar Li Tong, violin and Mark Rudoff, professor of cello. Tan and Tong perform Arabian Dance, Pizzicato and Transylvanian Dance ("Ardeliana") from Béla Bartók's 44 Duos for Two Violins, Sz. 98; Klezmer's "Freilach," Anonymous/arr. Aleksey Igudesman; Yaozu wuqu ("Dance of the Yao People"), Tie-Shan Liu and Yuan Mao/arr. Kia-Hui Tan; and Fiddle States for violin duet by Matthew Tommasini. Rudoff joins Tan in Zoltán Kodály's Duo for Violin and Cello, Op. 7.
This program is free and open to the public. No ticket required.