Friday, March 5, 2021 - 2:30pm
Livestream broadcast (start time approximate)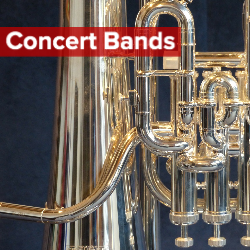 Conducted chamber groups present the second in a series of four livestreamed performances.
Three Fugues from the Well-Tempered Clavier
J. S. Bach/arr. Steve Danyew
I. Fugue No. 2, BWV 847
II. Fugue No. 16, BWV 861
Meagan Gaskill, chamber coach
Symphony from Act IV of The Fairy Queen
Henry Purcell/trans. Smith
I. Allegro Marziale – Canzona
II. Largo — III. Allegro Maestoso – Adagio
Scott A. Jones, conductor
Overnight Mail — Michael Torke
I. Priority — II. Standard
Russel C. Mikkelson, conductor
Serenade in E-flat, KV 375
Wolfgang Amadeus Mozart
I. Allegro maestoso
II. Menuetto – Trio
III. Adagio — IV. Menuetto – Trio
V. Finale: Allegro
Scott A. Jones, conductor
Livestream broadcast begins at approx. 2:30, due to a change in safety protocols for this date.

Upcoming performances — March 29, April date TBD.