Saturday, March 28, 2020 - 3:30pm
Southern Theatre, 21 E. Main St. Columbus 43215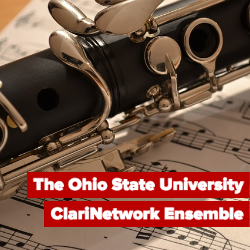 ***Canceled***

The Ohio State University ClariNetwork Ensemble will perform a program at 3:30 p.m. prior to a concert at 4 p.m. by renowned clarinetist Anthony McGill, presented by Chamber Music Columbus at the Southern Theatre in downtown Columbus. ClariNetwork, conducted by Dr. Caroline Hartig, will play "March," Op. 99, Sergei Prokofiev/arr. Luca Lucchetta; "Molly on the Shore," Percy Grainger/arr. Matt Johnston; "Intermezzo" from Cavalleria Rusticana, Pietro Mascagni/trans. Sandro Tognatti; "Shirim: A Klezmer Rhapsody," Piet Swerts/arr. Stefano Bergamini; "Clarinet Candy," Leroy Anderson/arr. Clarence Barber.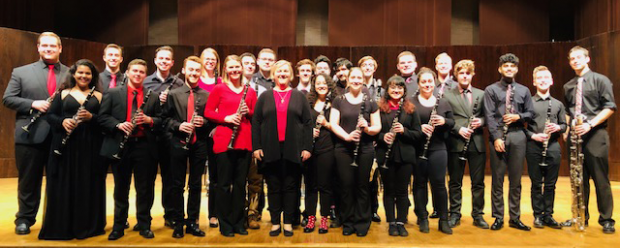 The Ohio State University ClariNetwork Ensemble, conducted by Dr. Caroline Hartig, professor of clarinet at the School of Music, currently consists of twenty-four students from across North America, ranging from undergraduate to master and doctoral clarinet majors. The ensemble has performed around the country at various conferences and events, their most recent appearance being the 2017 International Clarinet Association (ICA) ClarinetFest® Conference in Orlando, FL. Alumni of the Ohio State Clarinet Studio and ClariNetwork Ensemble hold positions in institutions, orchestras and military ensembles around the world and have been finalists in several international competitions such as the Coltman Chamber Music Competition and the ICA Young Artist Competition.
Members are Mikey Blaha, Maddy Brickner, David Brigle, Erin Dowler, William Erickson, Joshua Guesman, Danny Hong, Logan Howe, Ryan Jaeckin, Vanessa Klassen, Lyndi Knox, Noah Krumme, Nathan Murta, Alyssa Powell, Matt Pugh, Madison Rembowski, Ryan Rennie, Marco Rojas, Diana Sari, Christina Sieger, Austin Suarez, Gabrielle Valladares, Noah Wise.

Anthony McGill will present a master class on Sunday, March 29 from 2 – 4 p.m. at the Ohio State School of Music in room 174 Weigel Hall.
All Ohio State events scheduled through the end of Spring semester have been canceled, rescheduled or reformatted. The safety of our community is our top priority. We will continue to provide updates as more information becomes available.
---
School of Music ensembles are performing throughout the community while construction to Weigel Hall is underway. We extend our sincerest gratitude to our hosts for this performance.

A new home for the School of Music
The transformative Ohio State Arts District project includes a renovated and expanded School of Music. This new facility is an investment in our future performers, music educators, conductors and scholars. To learn more, visit go.osu.edu/artsdistrict.