Body
On Saturday, February 11, 2012, The Ohio State University School of Music celebrated the life and career of one of its most revered alumni in a grand event at the hisrtoric Lincoln Theatre in downtown Columbus. The Ruby Elzy Story was narrated by Columbus native and historian David Weaver, author of Black Diva of the Thirties—The Life of Ruby Elzy. The program featured students in Ohio State's opera program performing the concert repertoire Elzy experienced at Ohio State and selections from her professional career including highlights from Porgy and Bess. Actual radio recordings of Elzy herself were a highlight of the program. This recording from April 28, 1937, includes a brief interview in which Elzy mentions her time at Ohio State and performs "Summertime" from Porgy and Bess. 
Ruby Pearl Elzy (1908–1943), Ohio State alumna and trailblazing soprano of the 1930s, headlined at the Apollo, entertained First Lady Eleanor Roosevelt at the White House, and was handpicked by George Gershwin to create the role of Serena in his masterpiece Porgy and Bess. 
---
Ohio State Professor C. C. McCracken discovered Ruby Elzy in 1927 at Rust College in Mississippi. He brought her to Columbus to study at the university's new Department of Music, founded two years earlier. She studied with its founder and chair, Royal D. Hughes, who guided her musical development during her three years on campus. After graduation, she moved to Juilliard for further refinement before launching a career that led to an illustrious career on Broadway and in Hollywood. Tragically, Elzy died suddenly at the young age of 35, just as she was about to fulfill her dream of singing the role of Aida on the opera stage.
 
"Ruby Elzy's story is so compelling, and we wanted students in our opera program to embrace her status in American opera history," said C. Patrick Woliver, associate professor of voice and opera. "The idea expanded into a program students could share with the Ohio State community and beyond. Presenting the event at the historic Lincoln Theatre during the Columbus Bicentennial was the perfect way to share her inspiring story with the Greater Columbus community."
Read more about Ruby Elzy in the 2011 issue of Music at Ohio State.
Advanced
Media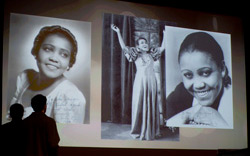 Media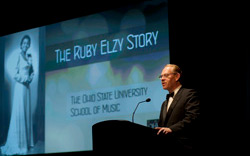 Media