Thursday, April 11, 2019 - 8:00pm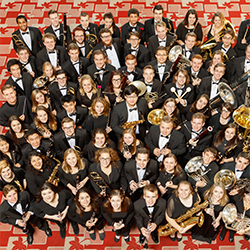 As part of the Public Domain Project at Ohio State, this concert features the march, "McKinley's Own" by Ohioan Karl L. King. The title refers to Canton's Grand Army of the Republic Band, for which King served as conductor in 1919. Published in 1923 by Fillmore in Cincinnati, the march was dedicated by King to his predecessor Emil Rinkendorf and the band, which had performed at gubernatorial and presidential campaign appearances by Canton native William McKinley in the 1890s. The Symphonic Band, conducted by Scott A. Jones, marks the centennial of King's directorship of the Grand Army Band by performing this rarely-heard work, using Alan Green's new edition based on the original 1923 parts.
Also programmed are Frank Ticheli's "An American Elegy," conducted by Alexander Gonzalez, DMA student; and the Commissioning Consortium Premiere of Timothy Mahr's Symphony No. 1, conducted by Scott A. Jones.
This concert is free and open to the public.