20th Annual Music Celebration Concert
Friday, November 30, 2012 -

8:00pm

-

9:30pm
Mershon Auditorium 1871 N. High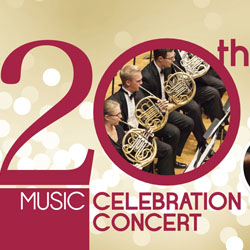 Celebration Concert on WOSU-TV
Watch the Music Celebration Concert on WOSU TV in true HD on Sunday, December 9 and again on Tuesday, December 25 at 8 p.m. Edited to fit an hour-long format, the concert will bring the best of The Ohio State University School of Music's annual extravaganza to the entire central Ohio area. WOSU Press Release
---
This popular annual musical extravaganza celebrates the holiday season and showcases the school's many performing groups from the OSU Symphony Orchestra to its Jazz Ensemble, Glee Clubs, Symphonic Band and much more, all presented in a non-stop collage setting.
Ticket Prices
$20 general public;
$10 ConcertCard holders, senior citizens, Alumni Association members, non-OSU students, and children;
FREE to all Ohio State students, faculty and staff (1 ticket per BuckID which must be presented in person).
Please note: This is a reserved-seating performance which traditionally sells out. We recommend that you order your tickets early. And, if you wish seats together, they must be ordered at the same time. For free BuckID tickets seated together, all BuckIDs must be presented at the same time.
Events held in Mershon Auditorium are ticketed through the Wexner Center Box Office. Celebration tickets are now available for advance sales:
Call (614) 292-3535,
Visit the patron services desk at the Wexner Center for the Arts, or
Important: Change in Special Event Parking
The High Street entrance to the Arps Garage is closed due to ongoing construction; access to Arps is via College Road only (off Woodruff Ave.), resulting in significant delays due to increased traffic. Visitors are encouraged to park in the Ohio Union North garage (see Visit Us-Directions and Parking). Special event parking will be available in both the Ohio Union North and Arps garages; guests without OSU garage permits will be charged $5 at the garage entrance. Signs will be placed near the High Street entrance of Ohio Union North garage and near the College Road entrance of Arps garage.
The School of Music announces a special admission policy for the 2014–2015 concert season.

As our gift to the community, our concerts, with just a few exceptions, are FREE TO ALL. No tickets required.

The previous BuckID = FREE and ConcertCard programs will not be in place for this year.

For the events that will be ticketed, find the box office details with the event listing in web events calendar and detailed below.

For the few premium events that do require admission - tickets are available for advance sales through the Ohio State Theatre Box Office. Call 614 292-2295 or visit the box office at the Drake Performance and Event Center, 1849 Cannon Dr. (2nd floor, off the lobby), Mon.-Fri., 10 am–4 pm.

Tickets for School of Music events in Mershon Auditorium are only available through the Wexner Center for The Arts. Visit wexarts.org/tickets or call 614 292-3535.

Tickets for all events are also available at the event venue box office, one hour prior to performance.
Note: the Weigel Auditorium Box Office accepts cash or check only.

Special Events
$20 general public
$10 Ohio State Students, faculty and staff, senior citizens, Alumni Association members, non-OSU students & children.
Student Recitals: No Ticket Required

Concert programs are subject to change without notice. For further event information visit the Event Calendar or call 614 292-6571.