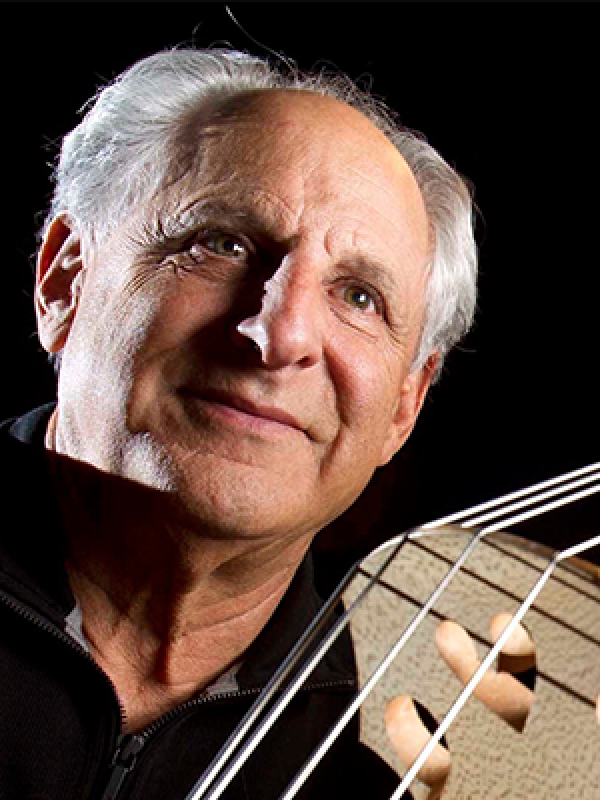 Barry Green
Associated Faculty, Double Bass
N466 Timashev Building
1866 College Rd
Columbus, OH 43210
Areas of Expertise
Double Bass
Inner Game of Music
Mind-Body-Spirit Pedagogy
Barry Green served as principal bassist of the Cincinnati Symphony for 28 years, and more recently principal bassist of the California Symphony and Sun Valley Idaho Summer Symphony. As former executive director of the International Society of Bassists, he taught at the University of California–Santa Cruz for 22 years before moving back to Cincinnati in spring 2018. Green joined the Ohio State School of Music faculty in autumn 2018. In May 2019, Green was named International touring artist to tour all the state capitals of Australia sponsored by the Australian String Teachers Association; this tour has been scheduled for 2022. In summer 2021, Green was awarded the Special Merit honor from the International Society of Bassists. In autumn 2021, Barry organized the Bass Club Cincinnati, sponsoring several clinics for bassists of all levels including an international public concert series. Green is currently teaching bass and his inspirational courses on the mind-body and spirit at The Ohio State University School of Music.
As a double bass soloist, Barry Green is known for his creative and eclectic "Green Machine" concerts including the bass in jazz, folk, contemporary and world music in combination with dance, voice, art and theater. Green has created three new multimedia productions called Anna's Way, from Inspiration to Artistry;  Anna's Gift, the Way of Passion and Anna's Promise. These unique hour-long productions are for solo bass, narration with background visuals and performed in combo version as well as with full concert band and chamber orchestra. These stories are based on his inspirational books devoted to the mind, body and human spirit. Green's most recent concert production includes another 45-minute multi-media narrated history of ten Russian romantic composers called From Russia with Love, premiered in spring 2021.
Green was the first bass soloist ever to solo with the Cincinnati Symphony (1970) when he commissioned Frank Proto to write the Concerto for Bass and Orchestra, conducted by Erich Kunzel. He has since twice appeared with the Cincinnati Symphony under the late Maestro Thomas Schippers who personally commissioned the Frank Proto Violin and Double Bass Concerto (with Ruggiero Ricci). In 1993 Green performed Jon Deak's concerto, Jack and the Beanstalk conducted by Jesus Lopez-Cobos. He performed the Deak concerto with the US Air Force Band in Washington DC Constitution Hall (2005), and he commissioned and performed Anna's Promise World Premiere with the US Army Orchestra, "Pershing's Own" in Washington, DC (2016). Anna's Promise is tentatively scheduled to be performed at the 2022 ASTA Convention in Atlanta with the US Air Force Orchestra.
Green is author of the Doubleday book The Inner Game of Music (with W. Timothy Gallwey, 1986) which deals with musicians reaching their potential in performance and learning, and has sold over 250,000 copies worldwide. He has written seven Inner Game of Music Workbooks published by GIA Music for keyboard, voice, instruments and ensembles. Green's second book, The Mastery of Music, Ten Pathways to True Artistry was published by Broadway/Doubleday in May 2003. The Mastery of Music is based on interviews with over 120 world-famous musicians on topics of courage, passion, creativity, discipline, humility etc. It deals with qualities of greatness from the human spirit that transcend all professions. Green's most recent book, Bringing Music to Life (GIA Music, 2009), explores three techniques of breath, pulse and movement that allow musicians to channel expression through their bodies. This work is based on exploring creativity and inspiration through collaboration with the great improvisation cellist David Darling and his organization called Music for People. The DVD of the same title was also released by GIA Music (2010).
Barry Green is active as a bass soloist, recording artist, author and teacher. He has been directing bass camps and schools for over 44 years, and is founder and director of the Ohio State Bass Camp. Green has studied with the legendary bassist François Rabbath. Barry's most recent project includes a unique exercise program called Stringersize with collaborators Brenda Brenner, Rebecca McLeod and Bob Gillespie. This program integrates traditional and non-traditional string techniques with popular music beats and videos. Green is also author of a new podcast called Buckeye Bass Bashes. Season 1 (spring 2021) includes eight 30-minute episodes showcasing the double bass world with history, jazz, electric, humor, pedagogy, and legendary solo performances. Green wrote two bass method books for bass: The Popular Bass Method in three volumes in collaboration with Bay Area jazz bassist Jeff Neighbor, and Advanced Techniques of Double Bass Playing. Green's recent CD recordings include Ole-Cool with colleagues from Spain and America, Live from St. Croix in recital with pianist James Hart, and a jazz-inspired recording with Lenny Carlson called Seat of the Pants. Green can be heard in numerous recordings on YouTube.
For information on Green's personal appearances and publications please visit his website at www.innergameofmusic.com, www.stringersize.com and https://doublebassblog.org/buckeye-bass-bash.
People Filters: