Friday, October 20, 2017 - 11:00am
Friday, October 20, 2017 - 8:00pm
Saturday, October 21, 2017 - 8:00pm
Wexner Center for the Performing Arts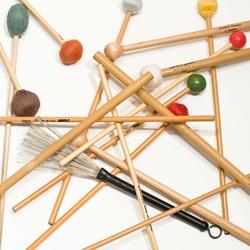 The OSU Percussion Ensemble and Sympatico Percussion Group will be performing as part of Parallel Connections, presented by BalletMet and The Ohio State University Department of Dance, in association with the Wexner Center for the Arts.
Both ensembles will perform music of John Cage to selections drawn from the vast repertoire of dance icon Merce Cunningham. Pieces to be performed include Dance Music for Elfrid Ide (1940), Imaginary Landscape No. 2 (1942) and Third Construction (1941). The OSU Percussion Ensemble is comprised of student musicians majoring in music performance and education, and the Sympatico Percussion Group is Scott Herring (professor, University of South Carolina), Joseph Krygier (lecturer, OSU), Juan Mendoza (assistant professor, McMurry University) and Susan Powell (professor, OSU).
For more information, visit wexarts.org.