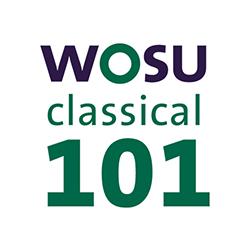 Sundays at 1 p.m.

WOSU Classical 101 FM opens its series Concerts @ Ohio State on January 5, 2020. Host Christopher Purdy presents performances by students and faculty of The Ohio State University School of Music. Selected works were performed in Weigel Hall and Mershon Auditorium on the Ohio State campus.

Listen to Concerts @ Ohio State, every Sunday at 1 p.m.
Tune to Classical 101 FM or stream Classical 101.

Schedule

January 5

Milhaud: Le creation du monde
Ohio State Chamber Winds conducted by Russel C. Mikkelson
Schocker: Coffee Nerves for Four Flutes
Flute Troupe conducted by Katherine Borst Jones
Beethoven/Liszt: Symphony 9 in D minor, Op. 125: IV
Ryan Behan, piano; Caroline Hong, piano
Berlin: Alexander's Ragtime Band
Flute Troupe conducted by Katherine Borst Jones
January 12

Schumann: Manfred Overture
Ohio State Symphony Orchestra conducted by Ching-Chun Lai
Maslanka: Recitation Book for Saxophone Quartet
Hyperion Quartet: Frankie Wantuch, Michael Weintraub, Nick Young, Scott Snyder
Pergolesi: Stabat Mater
Women's Glee Club and Symphonic Choir conducted by Kristina Caswell MacMullen
January 19

Bartok: From 44 Duos for Two Violins:
Arabian Dance — Pizzicato — Transylvanian Dance
Kia-Hui Tan, violin; Li Tong, violin
Ticheli: An American Elegy
Symphonic Band conducted by Alexander Gonzalez
Schubert: Impromptus for Piano Nos. 3 and 4, Op. 90
Steven Glaser, piano
Waltz for Tomorrow; Beatrice; Bag's Groove
Rusty Burge, vibes; Mark Rubinstein, piano; Andy Woodson, bass; Jim Rupp, drums
January 26

W. Francis McBeth: Of Sailors and Whales
Collegiate Winds; William Ballenger, narrator
Chopin: Fantasy in F Minor, Op. 49
Steven Glaser, piano
Jackson County Jubilee; Corner Pocket; Shiny Stockings; Cute
The Ohio State Jazz Ensemble, "Basically Basie" — Kristopher Keith, director
February 2

Mahler: Totenfeier
The Ohio State Symphony Orchestra conducted by Ching-Chun Lai
Beethoven/Liszt: Symphony 9 in D Minor, Op. 125: I
Ryan Behan, piano; Caroline Hong, piano
De Meij: Symphony 1 — The Lord of the Rings: Gandalf (The Wizard), Lothlorien (The Elvenwood)
The Ohio State Wind Symphony conducted by Russel C. Mikkelson
February 9

Rossini: Overture to The Italian Girl in Algiers
Ewazen: Roaring Fork
The Ohio State Wind Symphony conducted by Russel C. Mikkelson
A Jubilant Gloria; Blagoslovi, dushe moya, Gospoda; Shenandoah
The Ohio State Men's Glee Club conducted by Robert Ward
Hindemith: Symphonic Metamorphosis of Themes by Carl Maria von Weber
The Ohio State Symphony Orchestra conducted by Miriam Burns
February 16

Dickerson: Essay for Band
The Ohio State Symphonic Band and University Band
The Lost Lady Found; Where Dwells the Soul of My Love; Consecrate the Place and Day
The Ohio State University Chorus
Tommasini: Fiddle States for Violin Duet
Kia-Hui Tan, violin; Li Tong, violin
Bolcom: Clarinet Concerto
Alyssa Powell, clarinet; The Ohio State Symphony Orchestra conducted by Miriam Burns
February 23

Orff: Carmina Burana
The Ohio State Symphonic Choir; University Chorus; Men's Glee Club; Women's Glee Club; Hilliard Girls Club and Ohio State faculty and staff from all units.
Regan Tackett, Elizabeth Blanquera, soprano; Daniel Stein, tenor; Wil Tao and Nic Watkins, baritone — Richard Bjella conducts