Welcome to Audition Day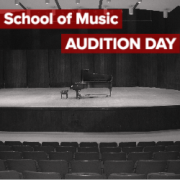 Apply to The Ohio State University and to the School of Music

Visit Undergraduates—How to Apply for detailed instructions. Once you apply to the university, you will also complete an application for the School of Music via Acceptd®. On that application, you will select your audition date.

All auditions will be held via a live virtual platform hosted by Acceptd where students will experience an engaging "Zoom-style" one-on-one interaction with faculty. Details will be provided to each applicant well in advance of their audition date.
Students who cannot commit to one of the audition days have the option to upload an audition video with their application. Though, we highly encourage students to take advantage of the interaction that the virtual audition will provide, auditions in both formats will be treated equally.
To prepare for either format, refer to the School of Music Audition Requirements.
Undergraduate Audition Dates

Check carefully when selecting your audition date. Audition dates occur in the same months as OMEA Solo and Ensemble contests. Please do not plan to participate in both activities on the same day.
Are you a transfer student? On audition day, transfer students will have a scheduled academic advising appointment to discuss how credits from your previous institution will transfer to Ohio State.
Audition dates for the 2021–2022 academic year:
Saturday, December 5, 2020 *
Saturday, January 23, 2021
Saturday, February 13, 2021
* Apply by November 15 if you wish to be considered for most university merit scholarships. If you apply to the university by the November 15 early action deadline, we strongly encourage you to choose the Saturday, December 5 audition date on your School of Music application so that your university admissions decision is not delayed.