Sunday, April 15, 2018 - 3:00pm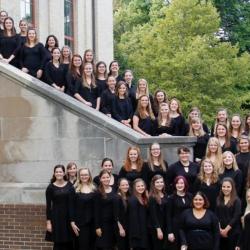 The ensembles present a joint concert. Symphonic Choir's program, "A Boy and A Girl," includes songs by Eric Whitacre, Rene Clausen and Claudio Monteverdi as well as five Hebrew love songs featuring Kia-Hui Tan, professor of violin, with vocal soloists Cayla Kass and Regan Tackett. Nadia Marshall narrates Whitacre's "A Boy and a Girl."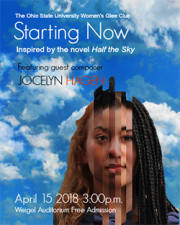 Women's Glee Club presents "Starting Now," with selections by Moira Smiley, G. B. Pergolesi, Sean Ivory, Donald Patriquin, Michael McGlynn and Tuneyards/arr. Richard Blocher. Three compositions by Jocelyn Hagen are featured, with special focus on her recently commissioned work, "Starting Now," made possible by a gift from the Culler Family. Students performing with the ensemble are Valeriya Nedviga, violin; Sam Johnson, cello; Dara Gillis, percussion; vocal soloists Maddie Thompson (Smiley's "A Man Was Born"), Megan Daily, Emma Gardner, Cayla Kass, Fiona Minich, Madison Richards and Camille Sargent (McGlynn's "Jerusalem"); Shelby Martell, Wylie Boyle, Katie Frost and Gabi Winter (Tuneyard's "Rocking Chair").
Kristina Caswell MacMullen, conductor; Casey L. Cook, collaborative pianist; Dara Gillis and Tyler Robertson, graduate teaching associates (SC and WGC); Xin Su, graduate teaching associate (WGC).
This event is free and open to the public.
Live stream broadcast begins at 3 p.m.