Wednesday, March 27, 2019 - 8:00pm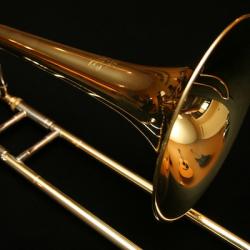 Graduate and undergraduate trombone students present a program of ensemble selections, directed by John Gruber, lecturer of trombone.
"Russian Sailor's Dance," Reinhold Gliere/arr. Frank H. Siekmann; Adagio from Symphony No. 3, Camille Saint-Saëns/arr. Ken Murley; Variations and Fugue, Chip De Stefano; Fugue in G minor, J. S. Bach/arr. Ralph Sauer (Peter Gooch, John Gruber, Jake Pauley, tenor trombones; Parker Baird, bass trombone); Ave Maria, Anton Bruckner; "Tower Music," Vaclav Nelhybel; "Carmen Ohio," Fred A. Cornell/arr. Zach Irwin.
Ensemble members are Nathan Adkins, Kenzie Christlieb, Katie Giffin, Peter Gooch, Brad Myers, Ethan Ours, Sarah Parise, Wayne Rickert, Vijay Rings and Jake Pauley, tenor trombones; Parker Baird and Zach Irwin, bass trombones.

This concert is free and open to the public. No ticket required.