Monday, March 7, 2016 -

4:00pm

to

6:00pm
18th Avenue Library, 175 W. 18th, Room 205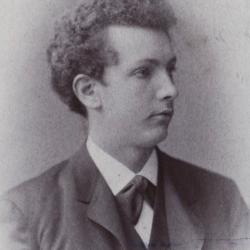 This special event features 3 lectures (approximately 20 minutes each) followed by discussion and will be held at the same time and location as the regular lecture series.
---
Irony, Identity, and Heroic Failure in Richard Strauss' Don Juan. Michael Malone, Ohio Wesleyan University.

Since its composition in 1888, many of the interpretive descriptions of Richard Strauss's tone poem, Don Juan, have become standardized and recycled. That listeners perceive this piece to be a heroic and passionate—if scandalous—narrative is usually assumed (even by the arch-formalist, Eduard Hanslick). But a close study of the structure of Strauss' themes and harmonic architecture reveals that, within a particular context of nineteenth century musical narratives, the possibilities for emotional signification in this piece might be richer and more complex than the conventional narratives suggest. This talk proposes a provocative re-imagining of Strauss's tone poem in the context of the largely overlooked traumatic rejection by the actress, Cecilia Wenzel, shortly after the composer's twenty-second birthday, and will articulate some of the ways Strauss plays with received conventions to construct a narrative of heroic failure.

Michael J. Malone holds a PhD in musicology from The University of Texas at Austin and is conductor of the Ohio Wesleyan University Chamber Orchestra. In 2012 he was a conducting fellow at The Juilliard School, where he studied with Virginia Allen, Eugene Corporon, and David Effron, and in 2014 he was a conducting fellow with the Baltimore Chamber Orchestra, where he worked with Markand Thakar. Malone's dissertation, "Symbols of Transformation: Reconceptualizing the Boundaries of Organicism in the Music of Béla Bartók", was an investigation of the ways in which Bartók's allusions to a variety of historical sources—including Schoenberg's Op. 11, No. 1, Bartók's own earlier music, and a long tradition of post-Beethovenian 'Fate' narratives—intersect and inform our understanding of Bartók's Concerto for Orchestra. Malone is the ex officio chair of the executive board of the Columbus Symphony Chorus, where he also sings bass, and he is a member of the development committee of the Columbus Symphony Orchestra.
---
Other lectures in the symposium include:
Luigi Rossi and the Lament Tradition. Lois Rosow, The Ohio State University.
What do appraisal theories tell us about musical emotions? Udo Will, The Ohio State University.
---

Lectures in Musicology is co-sponsored by The Ohio State University Libraries.
Lectures are held Mondays at 4 p.m. in the 18th Avenue Library, 175 W. 18th Ave. (Music/Dance Library, second floor, room 205), unless otherwise noted. These events are free and open to the public.
Campus visitors, please use either the Lane Ave. Garage or the Ohio Union South Garage. All other garages in the vicinity of the 18th Ave. Library are closed to visitors before 4 p.m.