Thursday, February 15, 2018 - 8:00pm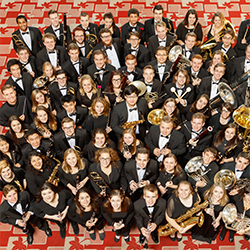 Selections include Overture to Candide, Leonard Bernstein/ed. Grundman; Salvation is Created, Pavel Tschesnokoff/ed. Houseknecht; In Memoriam, Mark Camphouse; a la Machaut, Andrew Boss; Symphony No. 6, Vincent Persichetti; Grace Before Sleep, Susan LaBarr/ed. Wilson; The Stars and Stripes Forever, John Philip Sousa/ed. Brion & Schissel. Scott A. Jones, conductor; Kristin Lin (Salvation and In Memoriam) and Todd Fessler (Machaut), guest conductors. Ms. Lin and Mr. Fessler both are pursuing the master of music in conducting.
This concert is free and open to the public. No ticket required.
Live stream broadcast begins at 8 p.m.