Thursday, February 14, 2019 - 8:00pm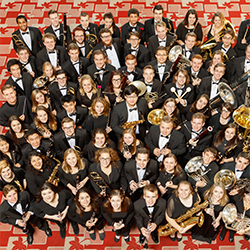 This concert explores love through several lenses: Offenbach's 19th-century comic opera La Belle Helene, based upon the elopement of Helen with Paris which starts the Trojan War in Greek mythology; love of others through Ticheli's setting of "Amazing Grace;" unrequited love in the epic story of Shakespeare's Romeo and Juliet set by Russian composer Sergei Prokofiev; the love of children as the future of our world in Ryan George's "Firefly;" and the love of nature and our precious natural resources in Michael Markowski's "The Tonic of Wildness." Scott A. Jones, conductor; Michael Weintraub and Joseph Carver, guest conductors.
This concert is free and open to the public. No ticket required.