Thursday, April 12, 2018 - 8:00pm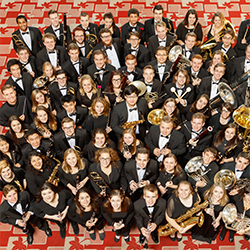 Two world premiere performances highlight the Symphonic Band's final concert of the academic year — Mercury's Glimpse by Zachary Friedland, DMA student in composition, and Sounds from the Oval by Lisa Galvin, a member of the arranging staff for the Ohio State Marching Band. Faculty guest soloist Katherine Rohrer, mezzo-soprano, is featured in Sandburg Reflections by Lewis J. Buckley.
The concert opens with Brian Balmages' arrangement of John Stafford Smith's The Star-Spangled Banner; additional selections are Leonard Bernstein's Overture to Candide, Vincent Persichetti's Symphony No. 6 and John Philip Sousa's On the Campus March.
Scott A. Jones, conductor; doctoral associates Onsby C. Rose (Mercury's Glimpse) and Joseph Carver (Sounds from the Oval), guest conductors.
This concert is free and open to the public. No ticket required.
Live stream broadcast begins at 8 p.m.