Monday, January 26, 2015 -

4:30pm

to

6:00pm
18th Ave. Library (Room 205), 175 W. 18th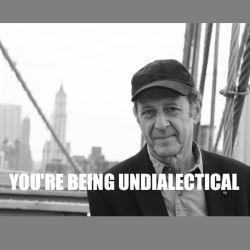 Sumanth Gopinath, associate professor of music theory at the University of Minnesota, presents "What Was 'Dialectical Music'? Notes on the Contradictions of American Musical Minimalism." This lecture is free and open to the public.

Music scholars have long invoked the Hegelian, processual conception of "dialectics" to understand music. This idea has been applied by Michael Cherlin, James Currie, and Janet Schmalfeldt, among many others. As a modality of thought, dialectics may be brought to bear upon any music. The notion of "dialectical music"—applying the adjectival form of "dialectic(s)" to describe a subset of all music, often favorably—is perplexing, because it necessitates an opposite: undialectical music. On the other hand, the notion of "dialectical music" has had a certain degree of currency in music scholarship. Perhaps the most pointed application of the idea appeared in the writings of the Dutch composer and scholar Wim Mertens, whose Adornian treatment of musical minimalism as "non-dialectical" prompted adoptions of and responses to the concept (including most notably by Robert Fink). This talk traces the emergence in English of the term "dialectical music"; treats the concept dialectically and examines its relationship to other terms to which it is commonly equated (narrative, teleological, process-oriented, Romantic, bourgeois), particularly (but not exclusively) in discourse on musical minimalism; and considers two archetypal works of American musical minimalism, Terry Riley's In C (1964) and Steve Reich's Piano Phase (1967), in dialectical terms.

Sumanth Gopinath is the author of The Ringtone Dialectic: Economy and Cultural Form (MIT Press, 2013) and co-editor, with Jason Stanyek, of The Oxford Handbook of Mobile Music Studies (2014). His writings on Steve Reich (pictured above), musical minimalism, Marxism and music scholarship, the Nike+ Sport Kit, the ringtone industry, Bob Dylan, and Benjamin Britten have appeared in various scholarly journals and edited collections. He is working on a book project on musical minimalism and is conducting research on sound in new and formerly new media, Bob Dylan's musicianship, country/bluegrass music, the aesthetics of smoothness, and the music of the Scottish composer James Dillon.
---
Musicology lectures are held Mondays 4:30-6 p.m. in the Music/Dance Library, Room 205, second floor of the 18th Avenue Library at 175 West 18th Ave., unless otherwise noted.

Upcoming Musicology Events