Monday, February 12, 2018 -

4:00pm

to

5:30pm
18th Ave. Library, 175 W. 18th, Room 205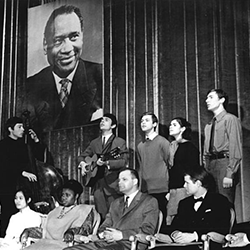 Shana L. Redmond, UCLA, presents "'I'll sing with my friends again': The Antiphonal Life of Paul Robeson." This lecture is co-sponsored by the Departments of African American & African Studies and Comparative Studies.
The present world regards death as a final state of being—"dead and gone" is what we're told. Paul Robeson (1898–1976) refused this teleology, instead recurring throughout the twentieth century in various states of matter that challenged the science and belief systems held during and after his lifetime. Shana Redmond is interested in the methods of reanimation that make possible the radical antiphony occurring between Robeson and his publics. With his music and that made of/for him as her foundation, the speaker pursues him through metamorphosis from sound to solid and back again.


Shana L. Redmond is the author of Anthem: Social Movements and the Sound of Solidarity in the African Diaspora (NYU, 2014) and Associate Professor of Musicology and African American Studies at UCLA. Her writing on race, popular culture and politics has appeared in Current Musicology (forthcoming), Black Music Research Journal, Race & Class and other journals as well as media outlets including NPR, Huffington Post, and Truth-Out. She is the series co-editor for "Music of the African Diaspora" with the University of California Press and an editorial board member for the new University of Michigan Press series "Music and Social Justice." She is currently finishing a book on the antiphonal life of Paul Robeson, titled Everything Man.
---

Lectures in Musicology is co-sponsored by The Ohio State University Libraries.
Lectures are held Mondays at 4 p.m. in the 18th Avenue Library, 175 W. 18th Ave. (Music/Dance Library, second floor, room 205). These events are free and open to the public.
Campus visitors, please use either the Tuttle Park Place Garage or the Ohio Union South Garage. All other garages in the vicinity of the 18th Ave. Library are closed to visitors before 4 p.m.