Monday, September 22, 2014 -

4:30pm

to

6:00pm
18th Ave. Library (Room 205), 175 W. 18th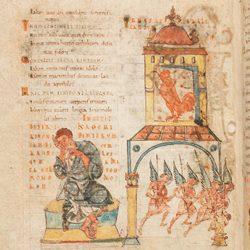 Guest lecturer Sam Barrett of the University of Cambridge presents "Singing Prudentian Hymns in the Early Middle Ages." This lecture is free and open to the public.
(Illustration from Bern, Burgerbibliothek, Cod. 4, fol. 4v)

In the year following John F. Kennedy's assassination, the English composer and organist Herbert Howells was commissioned to write a motet for his memorial service. The words he chose, "Take him earth for cherishing," were taken from a cycle of hymns composed by Prudentius (AD 348-c. 413) as translated by the Irish wandering scholar, Helen Waddell. The resulting motet, which remains one of the crowning jewels of the Anglican choral tradition, distantly echoed an early medieval tradition of singing Prudentian texts that has to date remained obscure. This presentation will shed new light by considering first the implications of extracts from Prudentius' Liber Cathemerinon ("The Daily Round") and Liber Peristephanon ("Crowns of Martyrdom") transmitted in song collections from the ninth century onwards. Attention will then turn to musical notations added to ninth- to twelfth-century manuscripts containing the collected works of Prudentius. This newly gathered material will be assessed alongside the appearance of numerous Prudentian extracts in the Old Hispanic hymn repertory and later as processional hymns. The overall shape of the tradition will lastly be considered by outlining the possible functions of a practice that existed alongside the regular liturgical cursus, and by assessing the implications of surviving source material for singing Prudentian verses at an earlier date than previously imagined.

Sam Barrett is a senior lecturer in music at the University of Cambridge and director of music at Pembroke College, Cambridge. He is a visiting associate professor at the School of Music at The Ohio State University during the academic year 2014-2015. He has recently published a two-volume edition and study entitled The Melodic Tradition of Boethius' "De consolatione philosophiae" in the Middle Ages and is currently working with Benjamin Bagby to convert this scholarly groundwork into melodic versions suited to concert performances and ultimately a recording by Sequentia. He has published widely in the field of early medieval Latin song, collaborating with the philologist Francesco Stella on a physical and digital edition of rhythmi (songs with accentual Latin texts) composed before c. 900 A.D. entitled Corpus rhythmorum musicum saec. iv-ix I Songs in Non-Liturgical Sources. He has also published articles relating to the best-selling jazz album Kind of Blue. Alongside his research interests, he is a co-editor of Music & Letters and serves on the board of Early Music History.
---
Musicology lectures are held Mondays 4:30-6 p.m. in the Music/Dance Library, Room 205, second floor of the 18th Avenue Library at 175 West 18th Ave., unless otherwise noted.
Upcoming Musicology Events