Monday, March 28, 2016 -

4:00pm

to

5:30pm
18th Avenue Library, 175 W. 18th, Room 205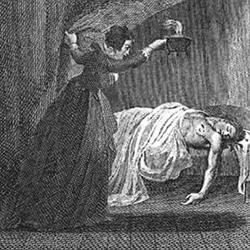 Ghostly Voices and Enchanting Strains: Music and the Supernatural in the Eighteenth-Century Gothic Novel. Olivia Wikle, The Ohio State University.
When Ann Radcliffe published her novel The Mysteries of Udolpho in England in 1794, she accelerated the already-growing popularity of the gothic literary genre. As a reaction to the Enlightenment's emphasis on rationalism and to the terror of the revolutionary fervor of late eighteenth century Europe, the gothic was a manifestation of aesthetic excess, a transcendence of the spiritual and earthly realms, and a transgression of the boundaries of good and evil. The gothic novel drew upon ideas of the past, using grotesque and exaggerated depictions of marvelous and otherworldly subject matter to express growing feelings of anxiety produced by the effects of urbanization, industrialization, and revolution.
Radcliffe's writing influenced other authors of her own lifetime as well as those that came after her. One reason for Radcliffe's success was her use of written descriptions of sound, and especially music, to enhance supernatural happenings throughout her gothic narratives. The descriptive musical writing that appears in her influential novels bears resemblance to the musical techniques used by opera composers to portray the supernatural in the operas being shown on the London stage in the late 1780s and 1790s. An investigation into the connections between the use of music to enhance supernatural subject matter in writing and opera during the late 18th century offers insight into why descriptions of music were so effective in the gothic novel.
Above illustration from The Mysteries of Udolpho, Vol. 4, p. 217 (London: Longman, Rees, Orme, Brown and Green, 1830).

Olivia Wikle is a graduate student in ethnomusicology at The Ohio State University.
---

Lectures in Musicology is co-sponsored by The Ohio State University Libraries.
Lectures are held Mondays at 4 p.m. in the 18th Avenue Library, 175 W. 18th Ave. (Music/Dance Library, second floor, room 205), unless otherwise noted. These events are free and open to the public.
Campus visitors, please use either the Lane Ave. Garage or the Ohio Union South Garage. All other garages in the vicinity of the 18th Ave. Library are closed to visitors before 4 p.m.