Monday, March 30, 2015 -

4:30pm

to

6:00pm
18th Avenue Library, Room 205, 175 W. 18th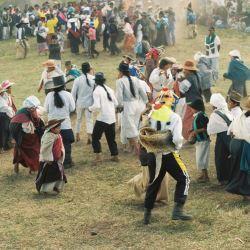 Michelle Wibbelsman presents "Amarushina Tupari: Otavalan Performance Aesthetics and the Symbolism of the Serpenteado Dance Pattern." This lecture is free and open to the public.
In this presentation, Michelle Wibbelsman explores the minimalist and highly repetitive character of the ritual dance and the music of the serpenteado. The performance aesthetics and the symbolism of this dance are then related to the contemporary musical expression of Los Nin Katary, a group of young Otavalan musicians who perform rap and hip-hop in Spanish and Quichua. While on some level Los Nin might appear as a radical departure from "traditional" Otavalan music, Wibbelsman's analysis shows that their musical fusion presents aesthetic and thematic continuity with millenarian images and conceptions. This talk bridges previous research on Andean performance aesthetics and festival symbolism with current work exploring transnational music making among new generations of Otavalans.

Michelle Wibbelsman is an assistant professor in the Department of Spanish and Portuguese at The Ohio State University and holds courtesy faculty appointments in the School of Music and the Department of Anthropology. Dr. Wibbelsman has worked among Otavalan communities in Northern Ecuador since 1995. She is the author of several articles and the ethnography Ritual Encounters: Otavalan Modern and Mythic Communities (University of Illinois Press, 2009). Her current research focuses on transnational migration, Otavalan diaspora communities and indigenous cosmopolitanism.

The photograph above was taken by the author in 2001 in Urcuciqui, Ecuador. Foreground: Aya Uma festival character wrapped in the skin of an anaconda. Entourage of dancers performing the serpentine dance pattern. Center: musicians playing the gaitas gemelas (twin flutes).
---
Musicology lectures are held Mondays 4:30-6 p.m. in the 18th Avenue Library (second floor, Music/Dance Library, Room 205), 175 West 18th Ave., unless otherwise noted. These events are FREE and open to the public.