Monday, April 13, 2015 -

4:30pm

to

6:00pm
18th Avenue Library, Room 205, 175 W. 18th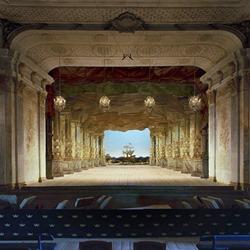 Lois Rosow, professor emeritus of musicology at Ohio State, presents "Staging Time and Space in the tragédie en musique." This lecture is free and open to the public.
The logic of time and space in early French opera is well known: acts normally occur in a single setting (except in cases of explicit supernatural intervention) and in real time; entr'actes most often accompany a change of setting and represent the passage of time. The distortion of these conventions in modern productions results from various circumstances – in some cases practical matters of staging or the perceived expectations of modern audiences, in others the director's personal vision. Few of the stage directors involved in high-budget productions of Baroque opera have an interest in historical reconstruction, yet we might nonetheless hope for an interest in preserving the spirit of the original. In this presentation, Lois Rosow discusses conventions of time and space from the point of view of seventeenth- and eighteenth- as well as twenty-first century sensibilities. The presentation focuses on two particular structural elements of the tragédie en musique: the entr'acte and the divertissement. Like historically informed music, historically informed staging (or at the very least, historically sensitive staging) just might tell us new things about operas we know and love.

Lois Rosow is professor emeritus of Music at The Ohio State University. She is an authority on French opera of the seventeenth and eighteenth centuries, with particular interest in text-music relations, allegorical meaning, music printing and engraving, performance-practice issues, and the administrative history and scribal workshop of the Paris Opera. She has published in the Journal of the American Musicological Society, Early Music, the Cambridge Opera Journal, The New Grove Dictionary of Opera, The Cambridge History of Seventeenth-Century Music, and various anthologies, among them Lully Studies (Cambridge, 2000) and New Perspectives on Marc-Antoine Charpentier (Ashgate, 2010). She served as guest editor for a special issue of the Journal of Seventeenth-Century Music. Her critical edition of Armide by Jean-Baptiste Lully (Olms, 2003), completed with a major grant from the National Endowment for the Humanities, has served for productions released on audio CD (Naxos, 2008) and DVD (FRA musica, 2011). She recently served as president of the Society for Seventeenth-Century Music and on the Board of Directors of the American Musicological Society.
Pictured above is the stage of the Drottningholm Palace Theatre in Stockholm, Sweden (photo by David Leventi).
---
Musicology lectures are held Mondays 4:30-6 p.m. in the 18th Avenue Library (second floor, Music/Dance Library, Room 205), 175 West 18th Ave., unless otherwise noted. These events are FREE and open to the public.