Monday, October 10, 2016 - 4:00pm
18th Ave. Library, 175 W. 18th, Room 205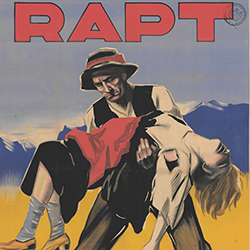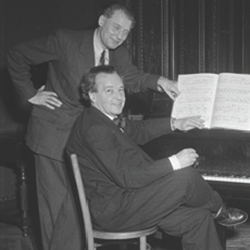 Realism in Theory and Practice in Early French Sound Film: The Case of Rapt (1934). Presented by Leslie Sprout, Drew University.

In 1930, the French-Romanian surrealist poet and screenwriter Benjamin Fondane, lamenting the arrival of sound film, proposed a distinctly anti-realist vision for the new soundtracks: "Noises and dialogue that are exaggerated, deformed, as fake as possible: this is the only use of speech or sound that is likely to maintain all of the benefits of silent film, while altering its form and enriching its hypnotic power." Meanwhile, composer Arthur Honegger embraced sound film's potential to communicate to listeners the precise meaning of abstract instrumental music—its "reality"—through close coordination between image and sound. In practice, no one version of sonic "reality" could possibly emerge from the soundtracks of Honegger's 32 feature-length sound film projects, due in part to the variety of sounds employed: music, dialogue, sound effects. The divergent visions of Fondane and Honegger collided in 1934 in Rapt, the first sound film project for Fondane, Honegger, Honegger's co-composer Arthur Hoérée, and the experimental director Dimitri Kirsanoff (best known for the brutally realist 1925 silent film, Ménilmontant).

Characteristically, Honegger declared that in Rapt he and Hoérée eschewed "descriptive harmonies" in favor of "classic forms" such as fugue to underscore a chase scene between a dog and a goat. Thus, "music would retain its autonomy so that it never encroaches upon the domain of the screen or vice versa." Nonetheless, Honegger's instrumental and Hoérée's electroacoustic compositions blur the line between music and sound effect. The soundtrack's complex interaction with the film's images also undermines Honegger's theoretical assumption that what images mean is concrete whereas what music means is abstract. In Rapt, Honegger and Hoérée successfully harnessed the concrete meaning of visual imagery such as rushing water and menacing storm clouds to define music's "reality." At the same time, as Fondane had predicted, the unstable relationship of film's visual storytelling to one distinct version of reality provided the opportunity for music, image, and dialogue to work together in Rapt to collectively communicate not just realism, but insight, to the audience of this new, "hypnotic" technology.

Dr. Leslie Sprout is associate professor and Chair of the Music Department at Drew University in Madison, New Jersey. Her scholarship on music, modernism, and national identity in twentieth-century France has been published in the Journal of Musicology, The Musical Quarterly, The New York Times, and the award-winning collection, La Vie musicale sous Vichy, edited by Myriam Chimènes. She is the author of The Musical Legacy of Wartime France (University of California Press, 2013). Currently she is working on Arthur Honegger's role as composer in the development of silent and early sound film in interwar France.
---

Lectures in Musicology is co-sponsored by The Ohio State University Libraries.
Lectures are held Mondays at 4 p.m. in the 18th Avenue Library, 175 W. 18th Ave. (Music/Dance Library, second floor, room 205), unless otherwise noted. These events are free and open to the public.
Campus visitors, please use the Tuttle Park Place Garage or the Ohio Union South Garage. All other garages in the vicinity of the 18th Ave. Library are closed to visitors before 4 p.m.