Monday, March 6, 2017 -

4:00pm

to

5:30pm
18th Ave. Library, 175 W. 18th, Room 205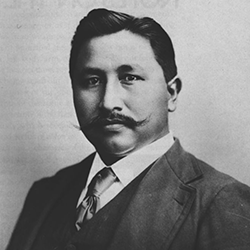 Katie Graber, Ohio State School of Music, presents Francis La Flesche, Ethnography, Music.
Francis La Flesche, an ethnographer who grew up in the Omaha tribe, worked as an informant, interpreter and writer of autobiographical, fictional and ethnographic works. He studied and transcribed Omaha and Osage music that European-American composers used as raw material for their "Indianist" works, and he collaborated with composer Charles Wakefield Cadman on an opera that was never performed. During this professional career, which spanned the 1880s through the 1920s, American anthropology coalesced as a university discipline, and American music was said to have come into its own. La Flesche's ethnographic and musical research and collaborations demonstrate how these interrelated projects of knowledge formation developed in both rational and affective ways. In La Flesche's writings and musical ventures, both the content and structures tended to disrupt emic and etic perspectives and address the complexities of representing subjectivity and culture. The edges and intersections of knowledge formation are crucial to explore—what was worthy of being studied, what was worthy of being composed, and how those projects and products come to be labeled American, civilized, scientific, musical, beautiful. When we pay attention to margins and centers, and the encounters at edges and intersections, we can identify issues of power and control in our disciplinary histories that still resonate today.

Katie Graber is a lecturer in ethnomusicology at Ohio State University. Her research focuses on the role of race and ethnicity in the reception and study of various kinds of music in nineteenth-century United States. She has published articles on the Fisk Jubilee Singers, race and opera, and Francis La Flesche.
---

Lectures in Musicology is co-sponsored by The Ohio State University Libraries.
Lectures are held Mondays at 4 p.m. in the 18th Avenue Library, 175 W. 18th Ave. (Music/Dance Library, second floor, room 205), unless otherwise noted. These events are free and open to the public.
Campus visitors, please use either the Tuttle Park Place Garage or the Ohio Union South Garage. All other garages in the vicinity of the 18th Ave. Library are closed to visitors before 4 p.m.