Monday, November 2, 2015 -

4:00pm

to

5:30pm
Humanities Institute, Knight House, 104 E. 15th Ave.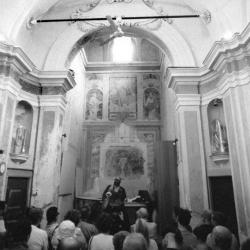 Professor Jason C. Bivins, North Carolina State University, presents "'The Notes Mean Something': Improvised Music and the Study of Religion."
When consulting what Ellison called the "lower frequencies" of American culture, we find that jazz registers in unexpected but meaningful places. Jazz music has not just been in conversation with American religions or served as their musical accompaniment, but is integral to the stories of American religions in the last century. But it is equally true, if uncommonly recognized, that jazz cannot be understood without its abiding, creative religiosities. This paper will explore how religious identity is made and contested through the senses, the disciplines, and the reception of jazz and improvised music, distilling a series of historical themes that also serve as broader interpretive angles of hearing. These themes demand a certain interdisciplinarity and a focus beyond prominent individuals and institutions. But in this, and because of the usually non-referential character of improvised music, they scramble the very codes they also establish. The paper thus engages the challenge of sound as exemplary of the study of religions more broadly, working through concrete portraits and sound examples to identify broader theoretical resonances and new scholarly formats.
Jason C. Bivins is a specialist in religion and American culture, focusing particularly on the intersection between religions and politics since 1900. He is the author of Spirits Rejoice!: Jazz and American Religion, a study of the intersections of jazz and American religions in and across comparative themes/categories like ritual, community, and cosmology. The book is enjoying coverage from mainstream and academic media, including National Public Radio, the Washington Times, All About Jazz, and elsewhere. Bivins has published most actively in the area of U.S. political religions, the subject of his first two books, Religion of Fear: The Politics of Horror in Conservative Evangelicalism (Oxford University Press, 2008) and The Fracture of Good Order: Christian Antiliberalism and the Challenge to American Politics (University of North Carolina Press, 2003). He has also published multiple articles, review essays, and occasional pieces on religion, politics, and culture in the United States, and - increasingly - on theory and method in the study of religion. Read more.
---
Lectures in Musicology is co-sponsored by The Ohio State University Libraries. Professor Bivins' visit is co-sponsored by the Music and Sound Studies Working Group of the Humanities and the Department of Comparative Studies. Bivins' lecture will take place at the Humanities Institute in the George Wells Knight House, 104 E. 15th Ave.
Lectures are held Mondays at 4 p.m. in the 18th Avenue Library, 175 W. 18th Ave. (Music/Dance Library, second floor, room 205), unless otherwise noted. These events are free and open to the public.
Campus visitors, please use either the Lane Ave. Garage or the Ohio Union South Garage. All other garages in the vicinity of the 18th Ave. Library are closed to visitors before 4 p.m.