Monday, April 11, 2016 -

4:00pm

to

5:30pm
18th Avenue Library, 175 W. 18th, Room 205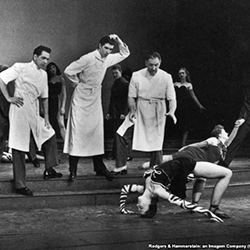 Rodgers and Hammerstein's Allegro: A Society "Far from Well." James Lovensheimer, Vanderbilt University.

Oscar Hammerstein II blamed the disappointing reception of Allegro (1947) in large part on his failure to clearly state the show's central idea: as soon as people become successful at doing something, subsequent awards or appointments "emaciate their achievements" and thwart their continued success. Instead, Hammerstein lamented, audiences "thought I was saying in small towns people are honest and in big towns they are not." Yet a close reading of the script and score suggest that both these ideas are integral to the show, and the second idea pervades much of Hammerstein's work. Further, Allegro demonstrates a third thematic concern. Allegro is an early indictment of the so-called "rat race" of postwar urban society; since this theme is inclusive of the first two, it can be considered the overall message of the show. Approximately ten years later, when Hammerstein began reworking the script for television, he retained but softened the overall social criticism and altered several key elements of the show.
Drawing from previously unexplored source materials, including the draft for the television version of Allegro, Dr. Lovensheimer offers a fresh look at the work that Hammerstein said was "the only play that was not a big success that I ... [want] to give another chance to."
James Lovensheimer is associate professor of musicology and chair of the Department of Musicology and Ethnomusicology at Vanderbilt University. He also serves as faculty director of Moore College, part of Vanderbilt University's new College Halls program. He attended the University of Cincinnati College-Conservatory of Music for four years and later received a Bachelor of Music from the University of Tennessee-Knoxville, summa cum laude. He earned a Master of Music degree and a PhD at The Ohio State University, where he won several graduate student teaching and service awards.
Highly regarded as a scholar on postwar American musical theater, Lovensheimer is the author of South Pacific: Paradise Rewritten, which launched Oxford University Press's Broadway Legacies Series, and he is currently writing a critical study of Oscar Hammerstein II for the same series. Lovensheimer provided numerous entries for the latest edition of The New Grove Dictionary of American Music as well as entries for The Encyclopedia of African American Music and The American Midwest: An Interpretive Encyclopedia. He has reviewed for The Journal of the American Musicological Society, The Journal of the Society for American Music and Studies in Musical Theatre, among other publications.
---

Lectures in Musicology is co-sponsored by The Ohio State University Libraries.
Lectures are held Mondays at 4 p.m. in the 18th Avenue Library, 175 W. 18th Ave. (Music/Dance Library, second floor, room 205), unless otherwise noted. These events are free and open to the public.
Campus visitors, please use either the Lane Ave. Garage or the Ohio Union South Garage. All other garages in the vicinity of the 18th Ave. Library are closed to visitors before 4 p.m.