Monday, January 30, 2017 -

4:00pm

to

5:30pm
18th Ave. Library, 175 W. 18th, Room 205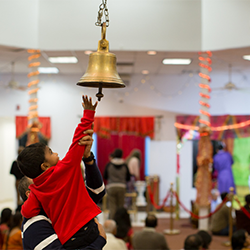 Guest speaker Isaac Weiner, Comparative Studies, presents Listening for Religion in Central Ohio.

What does religion in central Ohio sound like? Where does one go to hear it? How might we understand religious diversity differently if we begin by listening for it? These questions animate the American Religious Sounds Project (ARSP), a collaborative research initiative of Ohio State and Michigan State Universities, which will offer new resources for documenting and interpreting the diversity of American religious life by attending to its varied sonic cultures. In this talk, Professor Weiner will introduce the ARSP and reflect on some of its opportunities and challenges.

Isaac Weiner is an associate professor of religious studies in Ohio State's department of comparative studies. He is the author of Religion Out Loud: Religious Sound, Public Space, and American Pluralism (NYU, 2014) and co-director of the American Religious Sounds Project.
---

Lectures in Musicology is co-sponsored by The Ohio State University Libraries.
Lectures are held Mondays at 4 p.m. in the 18th Avenue Library, 175 W. 18th Ave. (Music/Dance Library, second floor, room 205), unless otherwise noted. These events are free and open to the public.
Campus visitors, please use either the Tuttle Park Place Garage or the Ohio Union South Garage. All other garages in the vicinity of the 18th Ave. Library are closed to visitors before 4 p.m.