Monday, October 12, 2015 -

4:00pm

to

5:30pm
18th Ave. Library, 175 W. 18th, Room 205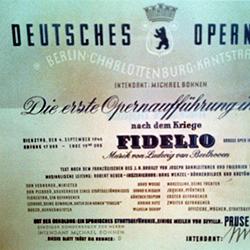 Emily Richmond Pollock, Massachusetts Institute of Technology, presents "Rank and File: Everyday Autobiographies of German Opera after World War II."
Following the collapse of the Third Reich, members of the opera community – displaced singers, orphaned rehearsal pianists, resettled fans – recorded their personal histories in letters, creating an informal autobiographical discourse that was diverse in purpose and richly expressive. The talk integrates these stories of ordinary artists and opera lovers into a larger historical narrative about the denazification of musical life and the practicalities of career continuity. "Everyday" autobiographies provide a more diversified picture of a post-war musical culture populated by individuals whose experiences were characterized both by an enduring commitment to opera and by violence and material contingency.
Emily Richmond Pollock is the Class of 1947 Career Development Professor as an assistant professor in the Music and Theater Arts Section at the Massachusetts Institute of Technology. She received her PhD in 2012 from the University of California-Berkeley and holds a Bachelor of Arts in Music from Harvard College (2006). Her work has been supported by grants from the Deutscher Akademischer Austauschdienst and the Paul Sacher Stiftung. An article about Bernd Alois Zimmermann's Die Soldaten was published in Opera Quarterly in 2014, alongside a set of translations of his essays from the German (with Elaine FitzGibbon). Her reviews and review essays have been published in Opera Quarterly and Notes.
Pictured: detail of Sammlung Deutsche Oper poster, displayed in Stadtmuseum Berlin.
---
Lectures in Musicology is co-sponsored by The Ohio State University Libraries.
Lectures are held Mondays at 4 p.m. in the 18th Avenue Library, 175 W. 18th Ave. (Music/Dance Library, second floor, room 205), unless otherwise noted. These events are free and open to the public.
Campus visitors, please use either the Lane Ave. Garage or the Ohio Union South Garage. All other garages in the vicinity of the 18th Ave. Library are closed to visitors before 4 p.m.